<! - - - - - - - - row divider - - - - - - - - - - >


#8 -- June 22, 2002 -- An eBay Fake Exposed: New Prints Made to "Look Old" -- Beware!!

As many of you know, eBay's Auctions can (at times) be a real "gold mine" of opportunity--from time to time, fine, old prints can and are found there. At the same time, inexperienced (and even experienced) Buyers can and often are fooled by claims made by Sellers such as "old," "original edition," and so forth. Certainly some Sellers of such Japanese woodblocks are simply making honest (but uninformed) mistakes in their represenations, so of course the Buyer must always be on his/her toes and exercise caution.

Despite the likelihood that most Sellers are honest, in some cases FALSE representations are made deliberately in order to decieve and cheat the Buyer. Here, we will expose one such Seller's activities which we have observed repeatedly over the past MANY months. No "names" will be given; however, reference will be made to a specific eBay Auction Item Number if anyone cares to email us to ask. Then, some further suggestions will be made as to what to be suspicious of and on the lookout for.

For the past many months, it has struck us as "odd" how this one particular Seller's prints--which were very often described as: "This is an old Japanese woodblock print .... at least 100 years old" --very often were "margin-trimmed" at odd (diagonal) angles, AND were also often made to "look old" by being stained and wrinkled. (We've often commented jokingly to one another that perhaps this Seller was throwing his prints into the washing machine!!) Anyway, this week we've finally been able to "digitally capture" several of this Seller's auction images and then show them as side-by-side comparisons to expose what's being done to perpetuate this fraud.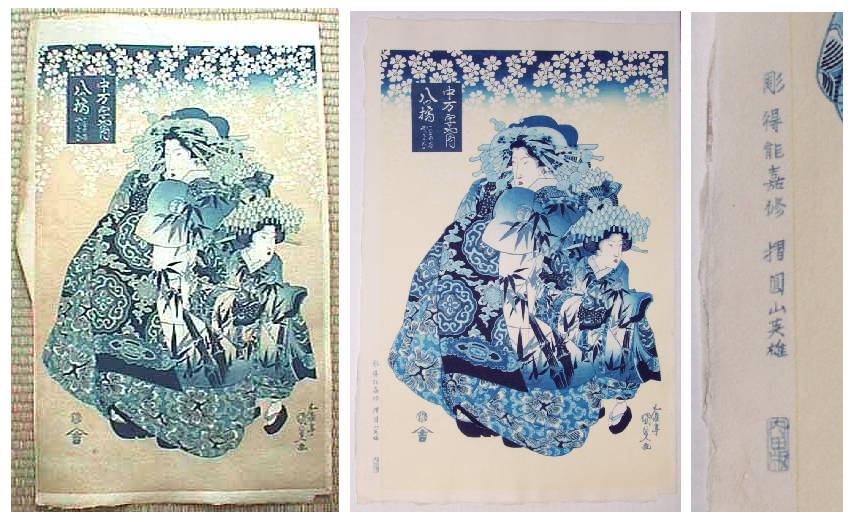 "Fake" Old Kunisada (modern "seals" trimmed) Same Modern Print (untrimmed) Carver/printer/Publisher seals



As you can see in the pictures just above, we've set side-by-side for your comparison one of this Seller's "trimmed fakes" directly alongside the SAME modern day reproduction (untrimmed) by Uchida Publisher. In doing so, we hope to clearly demonstrate what has been done and what the otherwise uninformed Buyer should be on the lookout for.

The striking observation that the reader can immediately observe is that the modern "carver/printer" and "publisher (Uchida!!) seals" have been trimmed off. A close-up of these seals are shown to the far right--they read "carver Tokuno, printer Sonoyama," and bottom "Uchida ban" (publisher). As stated, many of this Seller's prints are often observed margin-trimmed "very oddly," very often at a slanted, diagonal angle as it this case. In other cases, their print's margins are entirely removed--again, our assumption being that this is done to remove any modern day "publisher's seals."

Additionally, a second set of very "close up" images (shown below) have been also carefully examined by us, and we are therefore convinced--via tiny "key-block" line comparisons--that these prints are clearly identical modern day Kunisada "re-strikes," BOTH publsihed by Uchida.)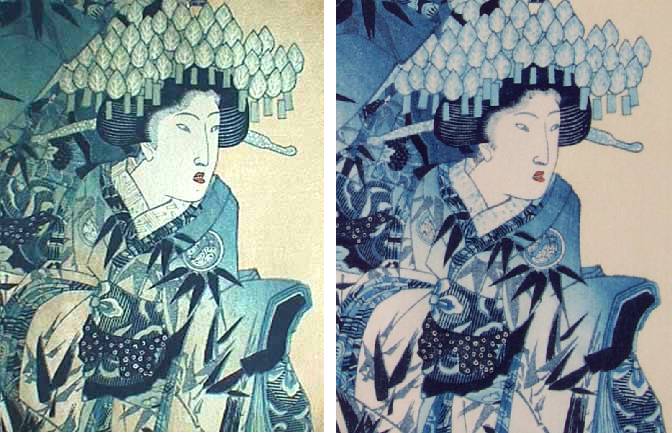 Detail area of "fake" Old Kunisada Detail of (Same) Modern Uchida Publisher of this print



Below are four further examples, all exhibiting the same "odd trimming." Yet other, additional other prints by this same Seller are also closely "margin trimmed" on one or all edges, and then stated to be "old." We seriously wonder about these as well, given what we are observing.....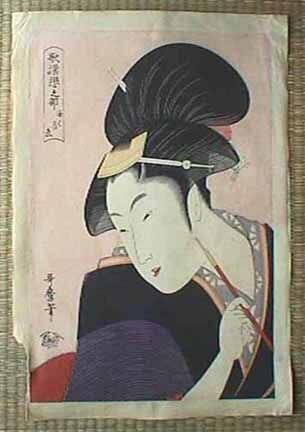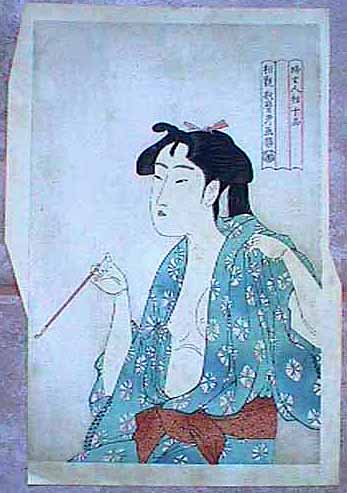 Above Left: Seller states, "I'm not sure of the edition but it is definitely pre 1900s"

Above Right: Seller states, "a very old Japanese woodblock print... I'm not sure of the edition but it is definitely pre 1900s"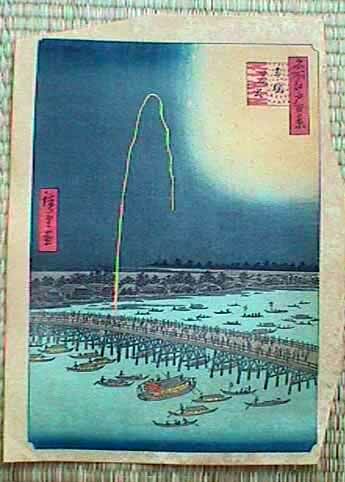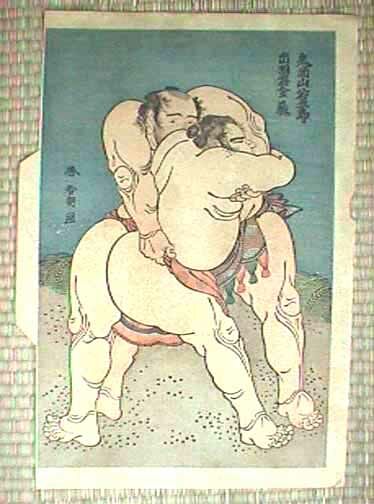 Above Left: Seller states, "an old Japanese woodblock... at least 100 years old"

Above Right: Seller states, "an old Japanese woodblock....Most likely a late 1800s edition"



In conclusion, it pays at times to be suspicious of "old looking" prints that just don't seem quite right. Along the same lines, it also pays to get to know the Seller or Dealer from whom you are planning to purchase Japanese woodblocks.

As always, let the buyer beware..... <! - - - - - - - - row divider - - - - - - - - - - >


#9 -- August 2, 2002 -- Dating of Prints via (lack of) ZIP Codes

Have you ever bought an old, framed print and wondered just "how old" it could possibly be?? Well sometimes there's a very good "dating indicator" that can shed some rather objective evidence as to the age or vintage of a given print. On the backside of many older framed prints, you will often find an old dealer's or framing shop's "business sticker." If present, take a close look at the "sticker's" address, and specifically LOOK for the presence of a ZIP code as a part of the address.

"What does a Zip code have to do with the dating of Japanese woodblocks?" you might ask....

Well, that's simple--since it was the year 1963 that the United States Postal Service began to use ZIP codes to help them with the sorting of mail. Therefore, quite simply, if your framed print's backside has a "business sticker" WITHOUT a ZIP code, it's a very good indication that your print was most certainly framed PRIOR to 1963. Of course, how much earlier than 1963 is undermined, but at least one can be confident that the print is a minimum of 39-plus years old.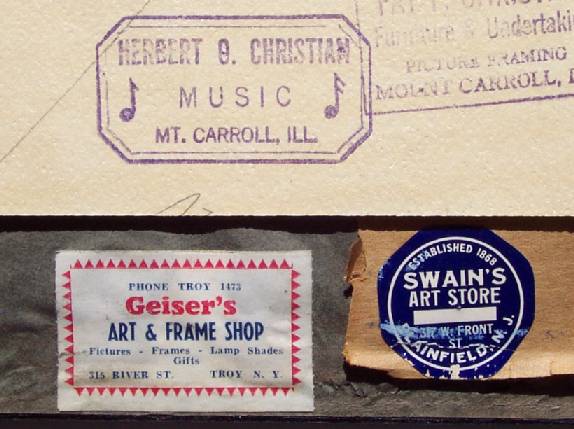 Three examples of "old business stickers" without ZIP codes.



As you can see in the examples just above, even ZIP codes "tell a story." <! - - - - - - - - row divider - - - - - - - - - - >


#10 -- Sept 30, 2002 -- News Flash!! New Facts Learned about Takahashi Hiroaki (Shotei)

In the last few days my good friend Marc Kahn has uncovered much new information previously unknown regarding the widely popular "shin hanga" artist, Shotei. Dispelling one myth, it is now learned that Hiroaki was NOT killed while "visiting his daughter in Hiroshima in August 1945... by the atomic bomb" (Merritt, page 142)--rather, he died several months earlier on February 11, 1945 of pneumonia. Also seen for the first time are photographs of this significant artist. Much more can be learned at Marc's comprehensive website "Shotei.com," were all is discussed in detail. <! - - - - - - - - row divider - - - - - - - - - - > <! - - - - - - - - section divider (old tid-bits 2002 / links) - - - - - - - - - - >


RETURN TO New "Tid-Bits for 2003" and Library <! - - - - - - - - row divider - - - - - - - - - - >