Woodblock Printing Onto Silk

Contained within each of these five large "Ukiyo-e Ha Gashu," volumes are various pages of Japanese text, interspersed with each volume's individual large, full-page color prints. Although some of these ukiyo-e "reproductions" are printed onto traditional Japanese paper, a great many upon viewing are noted immediately upon viewing to be "different." Instead of having been printed onto paper, many of these 163 images are (at first it seemed "oddly") seen to have been printed DIRECTLY ONTO SILK. Not only had Shimbi Shoin incorporated "end-grain" carving together with traditional "plank-carving" (discussed earlier above), in addition we now learn that they also pioneered the printing of woodblocks on silk, a technique virtually unheard of before this time.

Silk itself is not very absorbent--lacking the porosity and absorbency of thicker papers--so to do so with precision, one needs the very sharp edges of harder wood blocks to achieve the extreme control of ink distribution (over the block's surface) in order to prevent "ink-bleeding" during printing. Additionally, as "multiple-block sets" were required to print each of a single image's many colors, both precision of carving and later extreme care while printing were needed to assure the virtually perfect "registration" (alignment of each individually printed color) between the many blocks which were used. Thus, it is the realization that many of these large "Ukiyo-e Ha Gashu" images are printed onto silk that makes them both so visually wonderful and technically amazing.

As mentioned above in section Woodblock Printing Techniques, most of these individual "ukiyo-e reproductions" (some were of earlier woodblock prints, while others were, in fact, of hand-drawn scroll paintings) incorporated both the use of traditional "plank carving" together with the European technique of "end-grain carving." It was this marriage of these two techniques that allowed the birth of these prints. The WIDER, smooth surfaces of larger "planks" allowed areas upon which printers could manipulate their inks to achieve the beautiful gradations of color (or shading) that is known as "bokashi." At the same time, the more uniform nature of "end-grain" blocks, coupled with the fact that these blocks were more resistant to breakage while printing, helped Shimbi Shoin to achieve the extremely crisp and sharp "line-work" seen in these remarkable prints.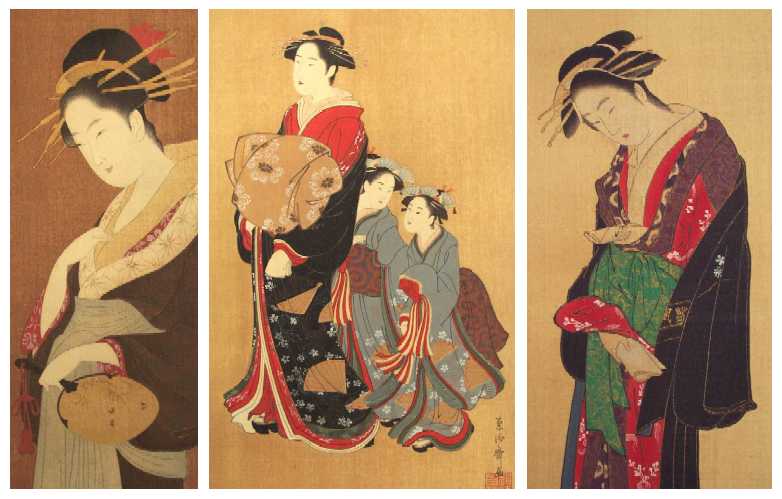 Detail of 3 "Ukiyo-e Grand Anthology" Bijin-ga Prints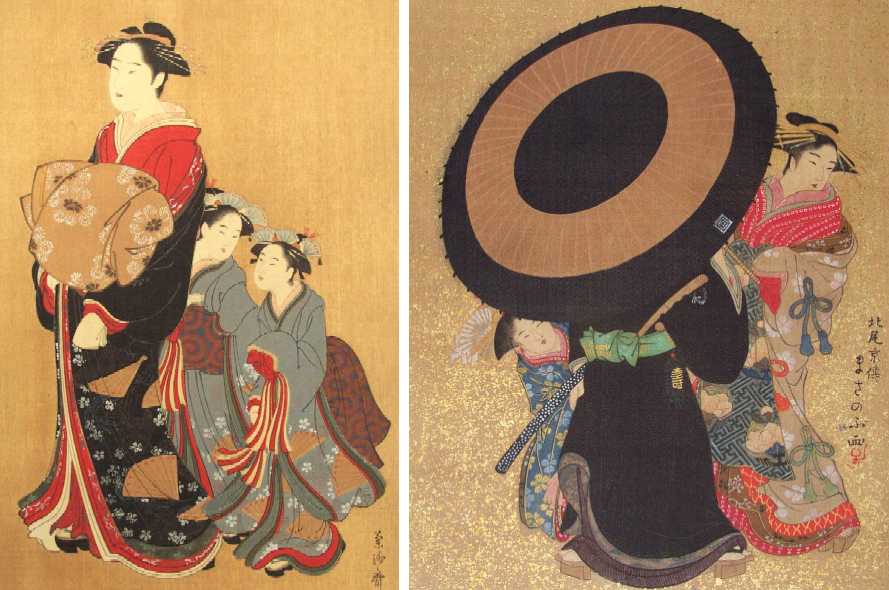 Detail of 2 Additional "Ukiyo-e Grand Anthology" Bijin-ga Prints





For a Short Time -- AVAILABLE VIA CONSIGNMENT

A number of these rarely seen Shimbi Shoin "Ukiyo-e Grand Anthology") (in Japanese ("Ukiyo-e Ha Gashu") prints are now being offered by special consignment in our website's Gallery #6 These prints will be available until only mid-April, at which time we may no longer have them available for purchase. And judging from what we have been able to learn, it may be a very long time before we are able to ever offer such prints again.

(May 2005 UPDATE: Due to their popularity, these Shimbi Shoen Publisher prints have been retained by Ukiyoe-Gallery. Plus--we have added another 12 prints to our selection of prints offered.)


These 15 or so prints (now 29 in total) have come to us from a long-established Kyoto antique dealer (who we shall simply call "John"), who we actually only met recently by chance. To tell you more, he has dabbled in Japanese antiques for nearly 15 years, in addition to having made Kyoto his home for the past 8 years. The point is, John knows Japanese art and Japanese antiques. Regarding these Shimbi Shoin "Ukiyo-e Grand Anthology") prints, we have further learned that these "anthologies" are quite rare in the marketplace--in fact, he tells us in his own words that, despite operating an active antique business within the heart of Kyoto, "we have had exactly one chance to acquire it." Here, "it" being, of course, a full set of all 5 volumes of the 1903-06 "Ukiyo-e Ha Gashu" set. Perhaps a few more comments directly from this Kyoto dealer will best tell more:



In "John's" OWN WORDS.......

"Published in 1906, at the end of a nearly decade-long effort by the greatest woodblock printers of the day, this anthology was intended to be the definitive record of the Ukiyo-e School. As such, no expense was spared, and the result is THE finest volume of reproductive woodblocks ever produced. Unparalleled in the quality of paper, detail in execution, and the selection of images and artists, it is the standard by which all others are judged. Many of these are the finest woodblock designs ever produced, the originals of which run from a thousand up to a quarter million dollars (for iconic Utamaro triptychs), but a significant number of the designs come from paintings, mostly priceless national treasures, which have never been rendered in woodblock anywhere, before or since."

"This anthology is exceedingly rare, even here in Japan. As dealers for nearly 15 years, we have had exactly one chance to acquire it. Far superior to modern woodblocks (owing to their overly-bright colors, poor carving and low grade paper), these select prints, premium in every way and "mellowed" with 100 years of age, represent the best way to collect and display superb ukiyo-e at a reasonable price."

"Shimbi Shoin produced a great many art volumes, of which this one, the "Ukiyo-e Ha Gashu" is the "crown jewel." It consists of about 175 woodblock prints, spread over 5 volumes, most of which are excellent in terms of composition, color, printmaking technique, paper quality, and collectability."

"(At the time it was produced) this set was intended to be the definitive look back at the "Ukiy-e School," and as such some of the most revered national treasures, both paintings and prints have been included. The compositions are nearly all superb, with most of the greats represented there.... Utamaro, Hokusai, Hiroshige, Eishi, the "Kano School" painters are all well represented (at the same time, Sharaku and some of the late masters like Yoshitoshi are notably absent)."

"SS pioneered the widespread use of the chromoxylograph, sometimes called "wood engraving," in the West. This involved carving into the "end-grain" rather than the "plank face" of the woodblock. That resulted in a level of printing detail perhaps only Harunobu ever approached in his best "chuban" prints."

"SS's use of color is notable not overdone. Many artists and publishers of this (late Meiji) period went hog-wild with the new aniline dyes, colorfast and eye-poppingly bright. Think "tomato-red" Kunichika actor prints. Shimbi Shoin, however, went for subtler colors, balancing new technology with the atmosphere of the originals. The result is a fresh, yet rich color balance that is quite satisfying indeed. Used for the prints found within these volumes were fine Japanese papers, or in the case of many of these prints, the finest Japanese silks available. Bound then into "volumes," each of these 175 prints were then laid-down on somewhat wider full pages of heavyweight presentation paper."

"They key thing for collectors is that these prints are all carefully chosen compositions, of nice size, and wholesome altogether. These volume's preponderance of "bijin-ga" helps further. (In addition to the) unusual subjects such as "bunraku puppetry" and "Otsu-e" for example, (they are) mostly tried and true beauties. They simply work."

"Finally, these prints which we have found are from one of the (even rarer) "deluxe sets" that are very seldom seen, as most all are already held by Japan libraries and museums."



More About Our "Limited Time" Ukiyoe-Gallery Offering....

From this 5-volume 1903-06 "Ukiyo-e Ha Gashu" set, we have deliberately selected a preponderance of "bijin-ga" images to offer what we believe are among the finest of the 162 woodblock images of this entire set. The popularity of such "beauties" to collectors seems to never fade, as together with Japanese landscapes, these two "themes" seem to appeal the aesthetics of many collectors. Stated again, only in fewer words: "Tried and true beauties..... they simply work."

Cheap??--well, perhaps they are not...... However, considered within the context of their age, their rarity, and the efforts which went into their production, nor at the same time can they be said to be "expensive." Best described as perhaps being of "somewhere in the middle," we like to think of these individual Shimbi Shoin prints as being simply "affordable."

Speaking of his clients in Kyoto and elsewhere within Japan, John tells us that he has never had a single Shimbi Shoin print returned..... and that he has a number of clients who have purchased multiple prints for their collections.

As with ANY print sold by Ukiyoe-Gallery, your purchase is made with the added confidence that it may be returned at any time within the first 10 days for a full "no questions asked" refund.
(See our "Guarantee" and "Return Policy" to learn more.)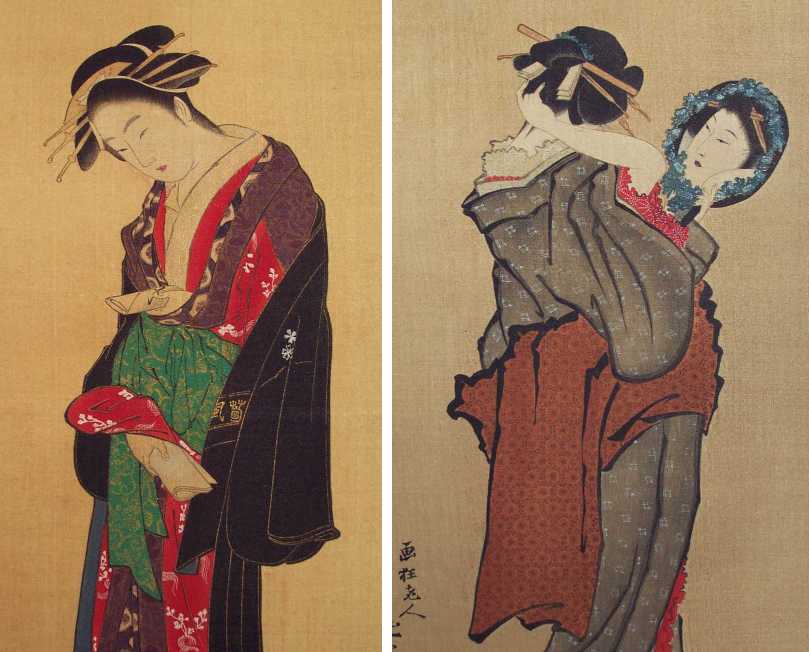 Detail of 2 Final "Ukiyo-e Grand Anthology" Bijin-ga Prints





Conclusion and Afterthought

To collectors of Japanese woodblock prints, the prints produced by Shimbi Shoin Publisher during the very early 1900's period of Japan are noteworthy and certainly deserving of their attention. This turn-of-the-century period was a time when Japanese printmaking techniques had advanced to a very high level of quality and craftsmanship. As a result, prints of this period are often noteworthy for their very high quality and use of deluxe printing techniques. It was also a turbulent time--a period when the introduction of photography, lithography, and other "modern" techniques began to challenge and slowly replace the need for hand-carved and hand-printed artwork. The highly skilled artisans of this period--both carvers and printers--were cast about by this sea of change, and in many cases found themselves literally looking for employment.

Despite this cultural movement toward change and the adoption of newer techniques, publishers such as Tokyo's Shimbi Shoin Publisher and Watanabe Publisher refused to give in--insisting that their hand-made prints were technically superior to anything that could ever be mass-produced by mechanical means.

Of course, today we still share their vision, their courage, and their dedication. Looking back, we know today that they were indeed right. To students of Japanese prints, of course it was the year 1906 when the term for these "new prints" known then as "shin hanga" (in Japanese, "shin" means "new," and "hanga" means "print") was introduced by Shozaburo WATANABE when he, too, began to boldly redefine Japanese printmaking. To publishers such as Watanabe and Shimbi Shoin, we owe a great debt.





---
<! - - - - - - - - endzone of article divider - - - - - - - - - - >

Literature (and print) sources used in preparation of this and other articles include:


Above documented prints courtesy of: Ukiyoe-Gallery and "John," our Kyoto Consignor

"John", (Kyoto, Japan), a consignor and dealer of Japanese antiques

George C. Baxley, (Alamogordo, NM), himself a dealer of (in his own words) "old books and stamps" (permission granted to quote)

"Guide to Modern Japanese Woodblock Prints: 1900-1975", by Helen Merritt and Nanako Yamada, University of Hawaii Press, Honolulu, ISBN 0-8248-1732-X

"Kawase Hasui -- The Complete Woodblock Prints", by Kendall H. Brown & Shoichiro Watanabe, Hotei (KIT) Publishing, Netherlands, ISBN 90-74822-46-0

"Crows, Cranes and Camellias: The Natural World of Ohara Koson", by Amy Reigle Newland, Jan Perree, Robert Schaap, Hotei (KIT) Publishing, Netherlands, ISBN 90-74822-38-X




---
(c) Thomas Crossland and Dr. Andreas Grund, December 2004/January 2005
Gallery
Terms
Ordering
About Us
We Buy Prints
Library