---


"Key-Block" Blockwear Over Time

Occasionally it seems, "all the stars line up," and we find ourselves luckily holding several copies of the SAME print at the SAME time. If, as it turns out, these are then prints are then determined to be from DIFFERENT "editions" (or printings), this can then give us a unique opportunity to do some careful side-by-side comparisons. One such unexpected congruence occurred quite recently when three copies of a Koitsu ISHIWATA print came into our hands. By the way, "this "Koitsu" is the lesser known of the two print designers each named "Koitsu"--both of whom worked at approximately the same time (early 1930's) for Watanabe Publisher. (Sometimes we refer to him as "the OTHER Koitsu.")

The Koitsu ISHIWATA print of which we are speaking is perhaps his most well known design, titled "Twilight at Imamiya Street, Choshi" (in Japanese, "(Hakubo) Choshi-machi Imamiya-dori"), and was first published and printed in 1932. It depicts a beautiful twilight image of a typical early Showa-era Japanese streetscene........actually the same type of streetscene which can still be encountered today, if one is willing to travel away from Japan's large, industrial cities. (Of interest may be this author's earlier article titled "JAPAN SOLO 1995 -- 21 Days, 1,000 Miles, by Bicycle".)

As stated above, three copies of this same "Twilight" print were obtained at the same time, and from the same source. Included were a "D-sealed" First Edition printing (this print's oblong "D-seal" was used only during the period 1931-41, and is considered to be the appropriate seal for a "first edition" state), a second "UN-sealed" yet certainly "old looking" copy (see our earlier article on "Old Paper"), and a third "6mm-sealed" copy (dating to 1946-57). These three prints, which are the subject of this article, are pictured just below in the same (left to right) order.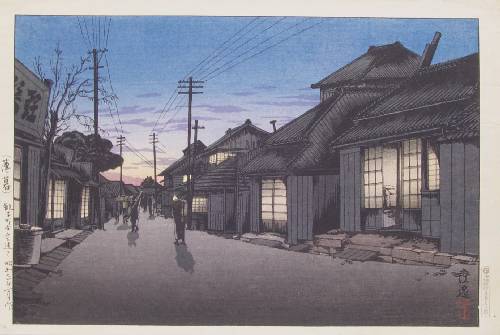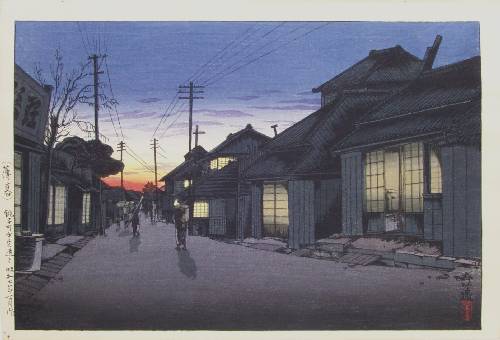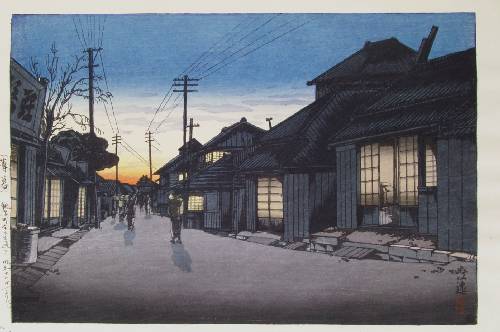 "Twilight" "BG-562" ("D-seal" First Edition) "Twilight" "BG-563" ("unsealed" 1940's) "Twilight" "BG-564" ("6mm seal," 1946-57)




A Closer Look at these Print's Seals
Before moving on to an examination of these print's blockwear, for the benefit of our readers we first show close-ups of these same three print's "publisher's seals" in the overlaid image seen just below. To the left is the "D-sealed" First Edition print, middle is the "unsealed" print, and to the rights is the "6mm-sealed" print, known positively to be a 1946 to 1957 vintage print. Since this far right print's "black printed onto brown" seal is so difficult to readily see, we've set further to the right a "digitally color-altered image" which more clearly allows one to see this small round black 6mm seal.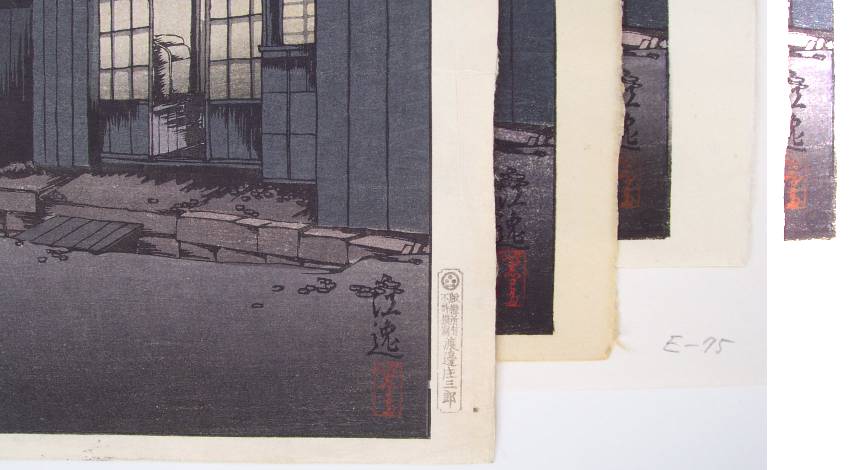 Left to right: Twilight" ("D-seal" First Edition) -- "Twilight" ("unsealed" 1940's) -- "Twilight" ("6mm seal," 1946-57)




A Unique Opportunity Presents Itself
As indicated in the introduction to this short article, occasionally we are given the unique opportunity of having more than one copy of the same print image "in-hand" AT THE SAME TIME. This "same time" availability of prints gives us the unique opportunity to make direct comparisons--even directly "overlaying" the prints onto one another for easier viewing. Certainly, this is far better and more certain that simply comparing digital images of prints which were "in-hand" at separate times and photographed under different lighting conditions.

That said, we were of course curious as to both what "similarities" and "differences" might be observable in these three prints. Immediately noticeable was a slightly different "color palette" which was chosen by the printer(s) of different time periods. Clearly apparent were the use of "softer" colors in the sky's sunset in the older 1930's printing, while the later images which were produced closer to mid-century seemed to favor the use of a "brighter" palette of colors. The "un-sealed" (hence "un-dated") print also seemed to have used a slightly more "purplish-colored" sky color, compared to the other two print's more "bluish" sky color. Those quick observations completed, again then as we'll often do when we're busy, we soon set these three "Twilight" prints aside and moved on to other more-pressing matters.


Sometimes It Takes the Eyes of Another Collector....
However, it was only a few days later when we agreed to met locally with a customer of ours who was interesting in purchasing a copy of this specific print. So.... we offered to bring along not one, but instead THREE copies to choose from. Well, over coffee, one thing led to another........and it soon turned out that this customer quickly developed an interest in the comparative "sharpness" of these three print's images. And so, together we took a closer look..... soon finding ourselves "over-laying" these three prints as can be seen just below.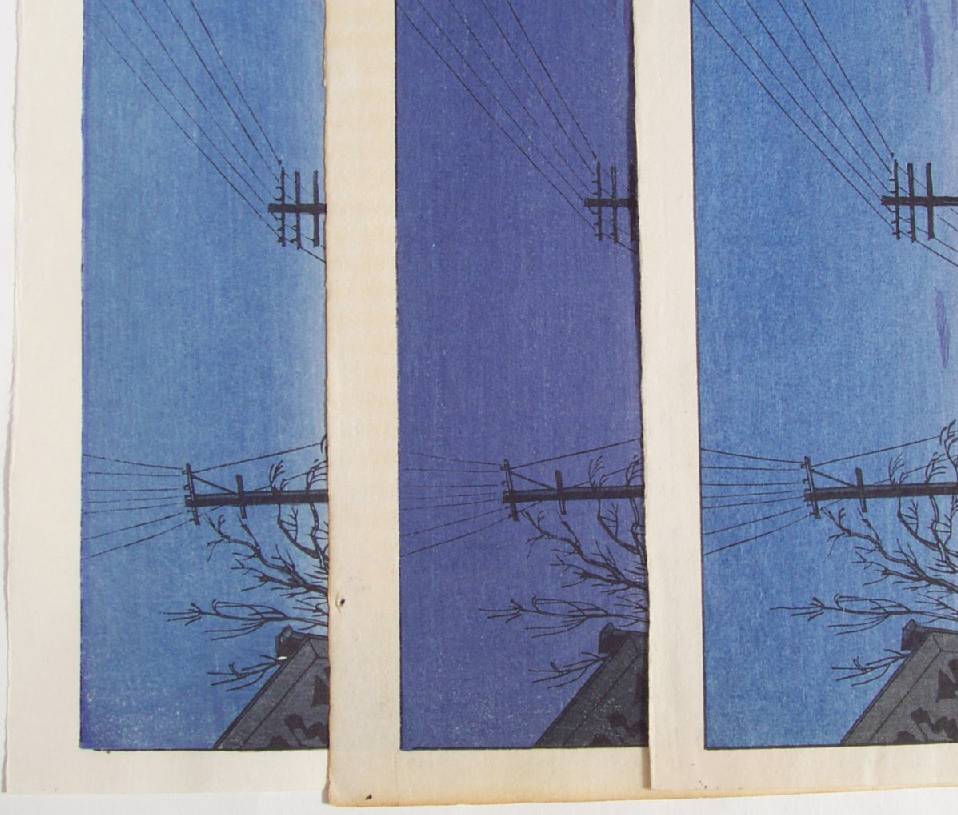 Left to right: "Twilight" ("6mm seal," 1946-57) -- "Twilight" ("unsealed" 1940's) -- Twilight" ("D-seal" First Edition)




Due then in large part to the unusually thin "telephone lines" seen in these three prints, it was soon apparent that the First Edition print's (seen far left) thin black "lines" (the telephone "wires") were exceptionally crisp, continuous, and largely unbroken. This was, of course, as one would expect from a very early-edition printing. Quite simply, the excessive pressure exerted upon this print's "key-block's" face when being rubbed vigorously by the printer's "baren" had not yet begun to observably "break down" and thusly damage these thinly carved raised wooden lines.

Next we will guide one's attention to the FAR RIGHT image, the "somewhat broken" lines seen in our "6-mm sealed" print which we thusly date with certainly to the 1946 to 1957 period. As expected, here we do indeed see some minor degree of "line-breakage" observable in this print's thin telephone "wires." Certainly not excessive, one would likely "not even notice" this slight degradation of line quality had it NOT been for the "in-hands" presence of our First Edition print afforded for this direct side-by-side comparison.

Finally, our attention was then directed to our third "UN-sealed" (middle) copy of this print. Here, our close comparisons seemed to indeed validate our sense of "old paper"--although "un-sealed," at least to our eyes, this print's degree of observable "line wear" clearly indicated it to be of a printing "age/vintage" BETWEEN that of our First Edition print and our "6-mm sealed" 1946-57 print.

In a similar manner, the observable degree of "block-wear" in these three prints can also be seen in each print's extreme OUTER "key-line" border. Note how continuously "unbroken" the thin black borderline appears in the First Edition print on the right, whereas the "6-mm" print's lines (seen far left) are clearly "more broken" than both the "un-sealed" and First Edition prints. (Again, although un-dated, clearly this middle print's outer black "key-line" border dates it to as having been published BETWEEN the First Edition and 1946-57 edition printings.)


A Few Words About "Un-sealed" Prints
At this point, we would like to again pass on our past observations and conclusions regarding the occasionally encountered "un-sealed" prints of Watanabe Publisher which are seen in the marketplace. Here, over time, and in the process of handling several hundreds of old Hasui, Koitsu, and other artist's prints published by Watanabe, it seems that perhaps as many as 1 in 15 or so prints is found to bear NO Watanabe Publisher's seal whatsoever. Now granted, sometimes these typically small, round, black 6mm and 7mm seals can be very difficult to "see," but we're talking about even using a magnifying glass while carefully searching the lower corners of such prints.

Our conclusion here then is both simple and logical: Quite simply, a great many "un-sealed" Watanabe-published prints exist in the marketplace simply due to the fact that these various publisher's seals are HAND-applied to these prints after their production. With the workload of producing some 567 different "Hasui images" in editions of likely 100 copies at each printing, it is little wonder that some prints slipped through without receiving their final hand-applied "seal." (For a comprehensive study of Watanabe Publisher's various publisher seals, and some further discussion of "un-sealed" prints, please see our Quick Reference article about "Watanabe Publisher Seals.")


A Final Close-up Observation
Also perhaps of interest to our readers is the observable exact duplication of these three print's Japanese "margin-printed title" which is seen in the overlaid image just below. At the top is the older "D-sealed" print, middle is the "un-sealed" print, and at the bottom is the most recently printed "6mm-sealed" version.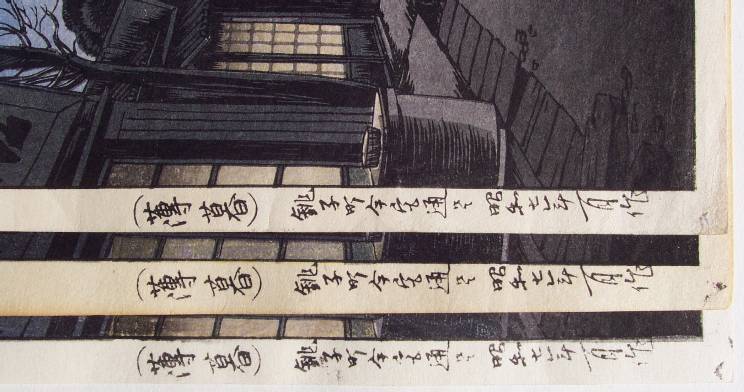 Top to bottom:

"Twilight" ("D-seal" First Edition)

"Twilight" ("unsealed"--but 1940's)

"Twilight" ("6mm seal," 1946-57)




Perhaps initially remarkable to the viewer is the nearly exact duplication of this print's "title" as seen in one print to another. However, this is as it should be--after all, this print's Japanese "kanji" title is carved directly into the black "key-block's" lower left margin. Hence, as a permanent part of the original "key-block," it should appear the same in all copies printed.

Again, as with all other thin "key-lines," we here also note a higher degree of "crispness" discernable in the earlier (top) "D-sealed" copy, some minor wear to the middle "un-sealed" print copy, and a slightly greater degree of wear to the later (bottom) "6mm-sealed" copy.


A Few Concluding Remarks

Clearly, as can be seen from a close comparison of these three "same as" prints, over time there is a similarly observable degree of "blockwear" which can be seen at least to some degree in nearly all other later edition prints. This then is part of the reason why Japanese woodblock print collectors will rightly pay a higher premium to add these earlier prints to their collections.

(Additionally, it can be reinforcing to note that one's sense of judging "older paper" can at times be validated by using the degree of "key-line" wear as an empirical measure of prints' relative age.)

That said, remarkably even these later edition printings still show only a rather minor degree of "blockwear." In fact, oftentimes such blockwear will even pass totally unnoticed unless one has the opportunity to hold an older print directly "in-hand" with which to compare.



---
<! - - - - - - - - endzone of article divider - - - - - - - - - - >

Literature (and print) sources used in preparation of this and other articles include:

Above documented prints courtesty of: Ukiyoe-Gallery

"Guide to Modern Japanese Woodblock Prints: 1900-1975", by Helen Merritt and Nanako Yamada, University of Hawaii Press, Honolulu, ISBN 0-8248-1732-X

"Kawase Hasui -- The Complete Woodblock Prints", by Kendall H. Brown & Shoichiro Watanabe, Hotei (KIT) Publishing, Netherlands, ISBN 90-74822-46-0

"Crows, Cranes and Camellias: The Natural World of Ohara Koson", by Amy Reigle Newland, Jan Perree, Robert Schaap, Hotei (KIT) Publishing, Netherlands, ISBN 90-74822-38-X




---
(c) Thomas Crossland and Dr. Andreas Grund, March, 2004
Gallery
Terms
Ordering
About Us
We Buy Prints
Library