Talented New Printmaker -- Brandon Rickman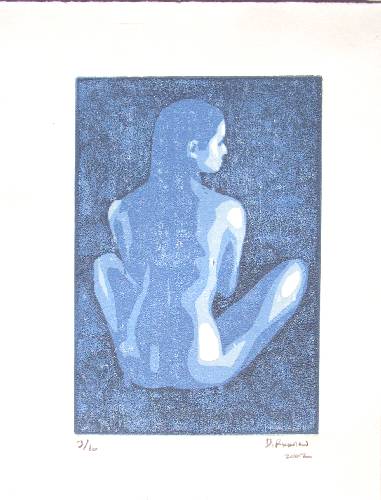 Brandon Rickman's -- "Blue Nude"




Who is Brandon Rickman??

Recently, we stumbled across a few prints offered by Brandon Rickman, an obviously talented and upcoming artist who lives and works in Los Angeles. Having attended college at UCLA, Brandon completed his MFA there in design and media art in 1998. At that time however, his studies had little direct relationship to the fine arts--instead focusing more on computer generated and computer oriented (interactive) art. Thusly, printmaking has only become his passion in recent years.

Now 31 years of age, Rickman tells us that he just recently "started exploring" the design and production of woodcut printmaking only during the past two to three years, at first with the help of book titled "Ross and Romano's Complete Printmaker." Although largely self-trained, he has also taken a few classes in printmaking at nearby Santa Monica College--telling us the motivation largely being "an excuse to use their presses."

Although Rickman's works themselves are not Japanese woodblocks, we at Ukiyoe-Gallery recognize artistic talent when we see it. Therefore--and as will continue to be our habit--we will from time to time bring to the attention of our viewers the offerings of additional new woodblock print artists whose works we admire.



About the "Reduction Woodcut Process"

Many of Rickman's prints are produced by a "destructive" process, whereby only a SINGLE block of wood is used to produce the final print. This is in contrast to the typcial process in Japanese woodblock printmaking, where a series of individual woodblocks are carved to print each color (or set of details) needed. Here, we'll let Brandon further describe the "reduction process" in his own words:





"In a "reduction woodcut," a full edition is printed from an incompletely developed
image. The woodblock is then re-carved and re-inked and printed over the first color.
This process is repeated until the print is done. This is a "destructive process," the
original woodblock is (thusly) destroyed as you work, so you are GUARANTEED a limited edition.




Additionally, a few of Rickman's prints are produced in the more typical method, using a series of individually carved blocks. In these cases, each color is printed from its own woodblock--at times with the various colors superimposed upon one another.

Each of Rickman's unique prints is first designed, and then self-carved and self-printed by the artist. For a typical print whose image measures about 6 x 8 inches, each color of the print alone takes about 3 hours to cut, proof, and then finally print. Hence, an entire limited-edition production run of a 4-color print can easily consume 12 to 15 hours time.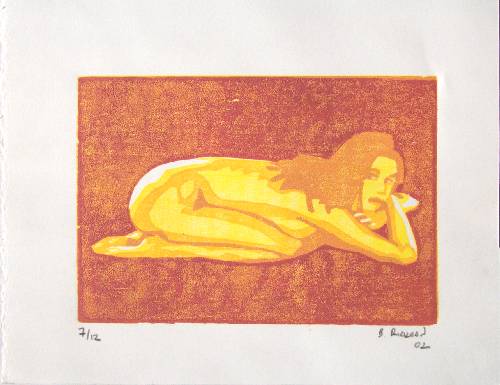 Brandon Rickman's -- "Yellow Nude"







This Print-maker's Perspective

Prefering a "limited canvas" upon which to work, he tells us that he would actually like to explore making ever smaller format prints--were it not for the fact that his customers keep encouraging him to "make it bigger."

As for materials, Rickman likes to keep things simple--instead, focusing on the artwork itself. For handprinting, he uses a homemade "baren" which is constructed from two wooded "drawer pulls" which have been glued back-to-back. Most of his prints are carved from pine blocks, although a few are also made from blocks cut from fir plywood. When completed, all of printed his works are then signed and numbered in pencil.

Simple--yes. But one certainly cannot argue with the results: Rickman's works offer an immediate, eye-catching appeal.


If you wish to purchase...

A good representation including several of Rickman's most popular prints are located in our Gallery #4, where you can view and learn the details about each.


What the Future May Hold....

Here at Ukiyoe-Gallery, we will continue our contacts with Brandon as he develops his next few prints, hoping to offer several new images in the near future.



For questions about Japanese woodblock prints, please email us at Ukiyoe Gallery, or call us at (541) 758-1752.




(c) Thomas Crossland and Andreas Grund, February 2003






Gallery Terms Ordering About Us We Buy Prints Library