Paul Binnie's "The Torii at Miyajima"
Paul Binnie's new Limited Edition "The Torii at Miyajima" Print, from his "100 Views of Famous Places in Japan" Series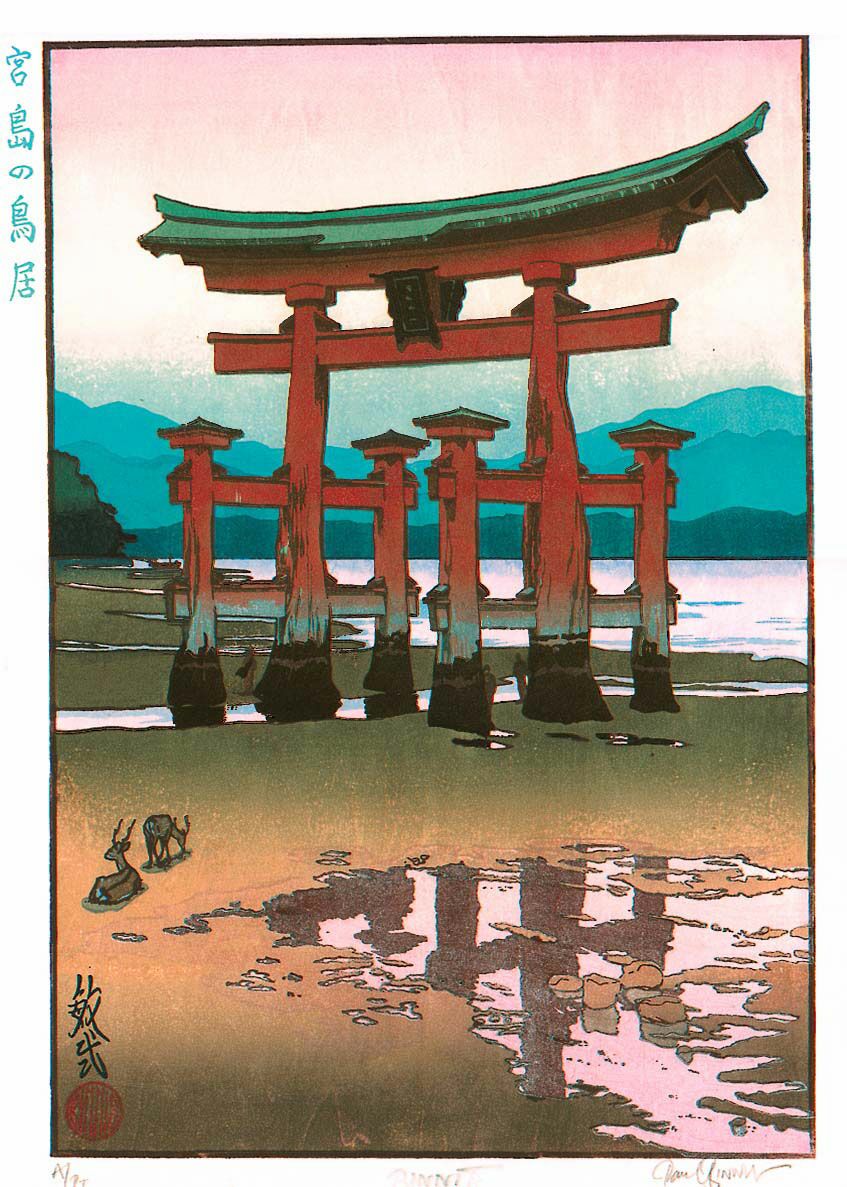 "The Torii at Miyajima" ("Miyajima no Torii")




Now available is an outstanding Limited Edition "The Torii at Miyajima" woodblock by the remarkable talent Paul Binnie, who both carves and self-prints all of his own works. Awaited by collectors--this "Miyajima" print is the SECOND of what is to be a very ambitious series of "100 Views of Famous Places in Japan."

For those of you who are not yet acquainted with this very talented Japanese-trained woodblock artist/printmaker, here's what German collector (and dealer) Dieter Wanczura has had to say about Binnie: "In my personal view he has an extraordinary talent - a combination of artistic expression and technical mastership. I keep a personal collection of his prints and I would not be astonished if Paul became one of the great names among the artists of the 21st century."

Here at Ukiyoe-Gallery, we whole-heartedly agree....



"The Torii at Miyajima" Described in Paul Binnie's Own Words....




"I am delighted that my new woodblock print, 'The Torii at Miyajima', or 'Miyajima no Torii', is nearing
completion, and will be released May 1, 2003. This print is again very much in the shin-hanga style of the
landscape prints and is based on an original watercolour done in early summer 1998, when I was on a trip to
Hiroshima. When I went there, I was surprised to see that the Torii....stands on a very shallow beach, as it
was low tide. Having seen this famous gateway in innumerable prints standing in the deep waters of the Inland
Sea, it came as a shock to realize that the waters weren't particularly deep at all!!"

"(Subsequently) a sketch was done late last year, 2002, in preparation for the print design."
(Adding that...) "The watercolour carries a lot of memories for me."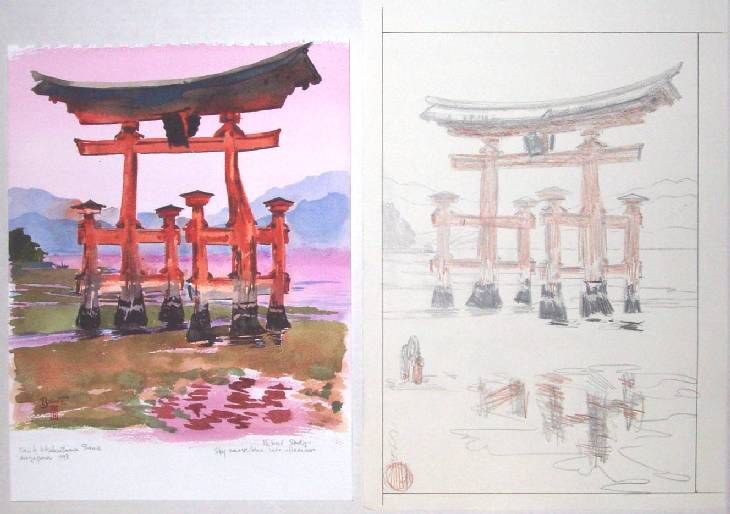 Original Watercolor and Original Sketch of "The Torii at Miyajima" ("Miyajima no Torii")




"This edition will again be of 100 examples, as is usual with my 'dai-oban-siz' woodblocks (42 x 29 cm,
16 1/2 x 11 1/2 inches), and is printed on 100% mulberry washi from Iwate Prefecture in Japan. This print
uses 27 printing stages to achieve it's effects of shading, including embossing in the water in the foreground,
which is also over-printed with mica."


(In closing, Paul was then also obviously pleased to announce: )

"I also wanted to let everyone know that the 'Rijksprentenkabinet,' the Print Department of the Rijksmuseum
in Amsterdam, Holland, has just acquired my 'Fuji Musume' print, so I am now in a major European public
collection, and in fact, I am their first living and contemporary woodblock artist, still producing today."





Our Exclusive Offer to Ukiyoe-Gallery Customers

Available now for print collectors is Paul Binnie's Limited Edition "The Torii at Miyajima" which also includes a BONUS small "surimono-style" koban print of "Snow at Miyajima"--so you'll actually be getting 2 prints. Don't miss out on what is truely a very Limited Edition printing of only 100 copies, each of which is pencil-signed by Paul.

Also available for collectors is an EXCLUSIVE Ukiyoe-Gallery paired offering: A striking reflected "Miyajima" image PLUS the matching "keyblock" image as seen just below. See BINNIE's -- "The Torii at Miyajima" + "Keyblock" 2-Print Set to learn more.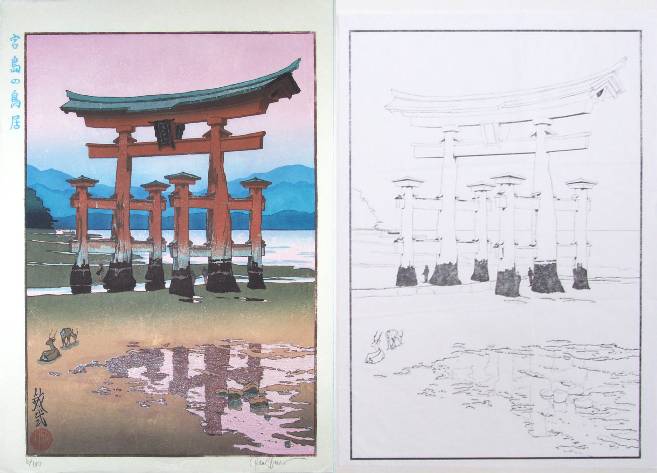 "The Torii at Miyajima" and matching "Keyblock"











For questions about Japanese woodblock prints, please email us at Ukiyoe Gallery, or call us at (541) 758-1752.




(c) Thomas Crossland and Andreas Grund, March 2003






Gallery Terms Ordering About Us We Buy Prints Library