Paul Binnie's New Bijin-ga Print, "Summer"
Paul Binnie's new Limited Edition "Summer" Print (from his 4-Print Beauty Series, "Four Seasons")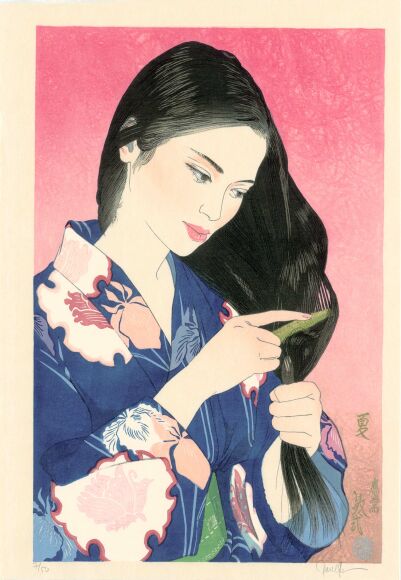 "Summer" ("Nasu")
---

Just released and now available is an outstanding and VERY Limited Edition "bijin-ga" woodblock titled "Summer" by the remarkable talent Paul Binnie, who both carves and self-prints all of his own works. Awaited by collectors--this "Summer" print is the FIRST image of a very Limited Edition 4-print beauty series titled simply "Four Seasons."

For those of you who are not yet acquainted with this very talented Japanese-trained woodblock artist/printmaker, here's what German collector (and dealer) Dieter Wanczura has had to say about Binnie:

"In my personal view he has an extraordinary talent - a combination of artistic expression and technical mastership. I keep a personal collection of his prints and I would not be astonished if Paul became one of the great names among the artists of the 21st century."

Here at Ukiyoe-Gallery, we whole-heartedly agree....



The Story Behind Binnie's "Summer" Beauty....

Just a few weeks back, we began to learn word of a "new project underway" between Paul Binnie (in Scotland) and Bruce Tierney (our very good friend, and print dealer in Tennessee) which involved the private commissioning of a new, 4-print "bijin-ga" series of prints. In both the design and production of these "beauty prints," Paul was asked by Bruce to "pull out all the stops" and to literally "spare no efforts" in the making of these prints.

A Japanese model named Akiko was selected, photographs and sketches were made--and the delightfully beautiful first print, titled "Summer" (or "Natsu" in Japanese) clearly speaks of the outstanding outcome achieved.

This first "beauty" print by Binnie, "Summer," is clearly very much in the shin-hanga style of the "bijin-ga" artists of the 1920's and 30's, such as Goyo, Shinsui, and Kotondo, whose works we ceaselessly admire.



Technical Excellence

Of interest to woodblock print connoisseurs is the fact that an amazing thirty-one impressions were needed to produce "Summer," utilizing both side of 12 blocks and multiple inkings.

Evident are the gold "mica," silver and bronze metallic pigments; pink "mica," printed in "baren suji-zuri" (special swirly printing), to the print's background; black lacquer printing done to Akiko's black hair; "gauffrage" (embossing) to create the texture of the yukata; and finally, 22c GOLD LEAF for the comb and the title character, "Natsu" ("Summer").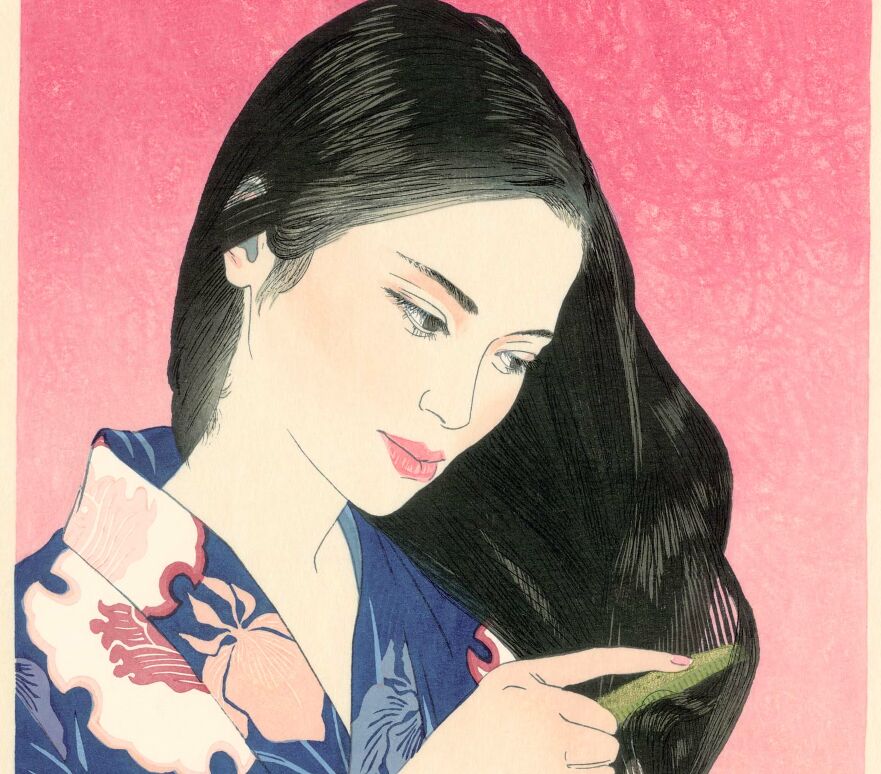 Close-up Detail of "Summer" ("Nasu")




A Special Note to Collectors

Three important factors should be kept in mind by collectors regarding the release of these exceptional prints:

First is their LARGE size--at 13 x 19 inches (which is nearly twice the size of standard, full-sized "oban" prints), these Binnie prints are produced of the same size as the earlier and now highly sought-after "large-format" prints by Goyo, Shinsui, and Kotondo. As collectors know, such larger prints nearly always command higher prices, as their robust sizes demand not only more materials, but more importantly, require much more effort in both carving and then printing.

Second (and perhaps most important), is the VERY limited "edition size" of these prints, as ONLY 50 impressions will ever be printed. Consider, for example, that many of the finer Shinsui prints of the 1920's and 30's were issued (and then to a smaller collecting public) frequently in "limited numbered editions" of 200 copies. Notable, therefore, is the fact that this is indeed a very small edition of only 50 prints. Certainly ALL copies will be "sold out" within a short period of time.



(Note: The FIRST copy of this print was auctioned off in a silent auction in the Tennessee State Museum at $1,700. At the time of this writing, OVER HALF of the 50 have already been sold,
making this Binnie's fastest ever selling print.)



Third (and certainly "over-looked" by some), is the amazing fact that Binnie alone has done ALL of the work required to produce these fine prints. Trained under both Seki and the Yoshida Studio in Japan, Binnie is himself the artist, AND the block-carver, AND then the printer. Hence, from a technical standpoint, Binnie's works exceed even the "hands-on" and highly sought-after "jizuri" prints of Hiroshi Yoshida. An appreciation of this fact seems "lost" by some collectors.

Bottomline--although increasingly becoming more well recognized by the collecting public--at the present time a full appreciation of Binnie's works has not yet been fully realized. It is safe to say, however, in a very few short years, as collectors we will soon all look back and say, "I remember when......"


Upcoming Prints of This "Four Seasons" Series

Currently underway, Paul has at this time just begun work producing the second print of this series. Titled "Winter," this next print will feature a blue "mica ground" of falling snow and hand-applied "gofun."

We hope to soon have available some preliminary images of this work while it is still being produced. It certainly sounds to be a beaut--stay tuned!!



Our Very Special Offer to Ukiyoe-Gallery Customers

For a limited time only, we are now accepting orders for Paul Binnie's first Limited Edition beauty, "Summer," at a very special pre-ordered price of only $1200 during the month of September 2003 ONLY. (This is a full $100 below "Summer's" regular price--and is being offered on a print that even Binnie himself does not have available to sell to the public.)

So don't miss out on this very special offer. Order now and reserve your own very Limited Edition (only 50 copies), pencil-signed copy of this exceptional "Summer" print. (This offer ENDS September 30th, 2003--with all pre-ordered prints to be shipped the following week.)


UPDATE 2006

Produced in small editions with "Summer" being Paul Binnie's smallest "edition size" print at only 50 copies, this particular "Summer" print appears now to be largely "sold out." A few copies can occasionally be found.



---
(c) Thomas Crossland and Andreas Grund, September 2003, Updated Jan 2006
Gallery
Terms
Ordering
About Us
We Buy Prints
Library