"A Visit to Tokyo's Kameido Tenjin Shrine"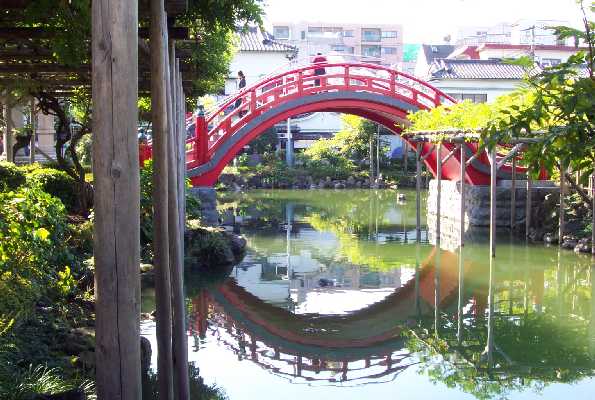 Tokyo's Kameido Tenjin Shrine
---


Without a doubt, one of the most famous of Tokyo's many landmarks is the centrally-located and unexpectedly delightful Kameido Tenjin Shrine. Luckily indeed, we were blessed with a beautifully clear autumn day this past October of 2003 when my very good friend Dr. Andreas Grund accompanied me to visit this revered and often-pictured holy site.

The drive through downtown Tokyo was, of course, as expected--the typical ugliness and in-your-face brashness for which Tokyo is so well known. Crowded and congested, it is the Tokyo that its millions of inhabitants call home. Seen just below is the streetside entrance to one of Kameido's four sides.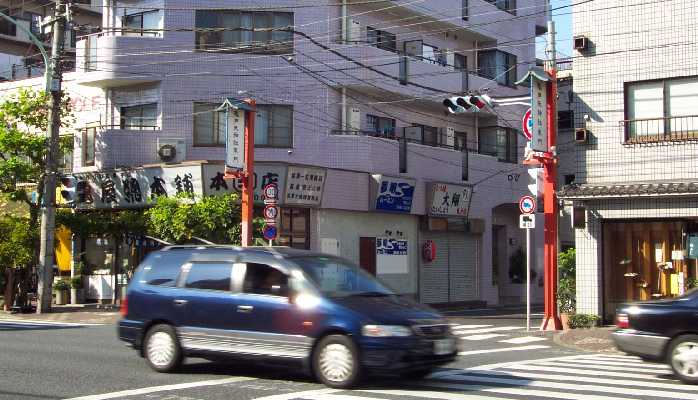 Streetside Entrance to Kameido Shrine






Some History

Tokyo's Kameido Tenjin Shrine is perhaps most well-known for two things: its famous arched "drum bridge" and the purple wisteria which overhang much of its ponds from overhead trellises. The spacious grounds of Kameido Shrine are dedicated to the 9th century scholar, poet, and politician named Sugawara no Michizane. Although earlier he was of the ministerial rank, Michizane was later victimized by the Imperial Court and was exiled to the far southern Japanese island of Kyushu where he soon died. Shortly thereafter, several natural disasters struck the capital city of, Kyoto and people believed Michizane had come back to haunt his former enemies in the form of a vengeful spirit. He soon became identified with the Thunder God, although later more correctly he also was thought of as a god of learning and literature.

The Kameido Shrine of Tokyo itself dates to 1662, when a statue of Michizane made from plum wood (this was Michizane's favorite tree) was installed here in his honor. Since then, Kameido has remained a popular destination for Japanese worshippers of the Japanese Edo, Meiji, Taisho, Showa, and now Heisei periods.

Of course, to collectors and admirers of Japanese woodblock prints, Kameido Shrine is also well known. Although dozens of Japanese artists have produced drawings and prints of Kameido, it is without doubt that Ando Hiroshige's is certainly the most well known. Produced in 1856 as the 65th print of his most celebrated series "One Hundred Famous Views of Edo," Hiroshige's print titled "Wisteria at Kameido Tenjin Shrine" is famous for its depiction of both the wisteria blossoms and steeply arched drum-bridge of this famous Tokyo landmark. Since then (and even before) countless other Japanese artists have also tried their hands at producing their own unique views of Kameido, including such famous names as Gekko, Kiyochika, Yoshida (both Hiroshi and Toshi), Hasui, Kasamatsu, and others.

Not intended to be within the scope of this article, a soon-to-follow Ukiyoe-Gallery article will highlight many of these various artistic scenes of Tokyo's famous Kameido Tenjin Shrine. Sadly, we must also report that the original and largely wooden structures of Kameido Shrine which dated to 1662 were destroyed by the 1945 Allied fire-bombings of Tokyo during World War II. What is seen today is reconstructed largely of concrete and metal.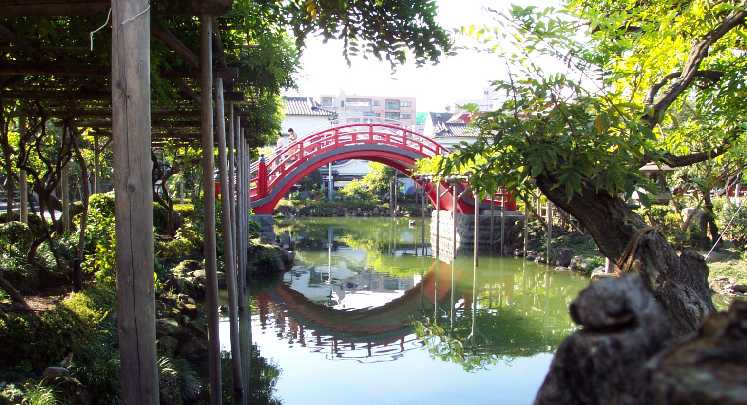 A Lovely View inside Kameido's Grounds



A Look Around Kameido's Grounds

Whatever the season, and whatever the time of day, Kameido Shrine rarely disappoints its visitors. Certainly this was true on the morning of our visit. Knowing beforehand that Kameido's drum-bridge and other features had been reconstructed following their War-time destruction, this author honestly had "rather low expectations" as to what might be encountered. However, those preconceptions soon proved to be false--and the entire morning was spent delightfully touring Kameido's spacious grounds, with new vistas and unique viewpoints found at every turn. Especially appreciated was the delightfully crisp and brightly sunlit views that awaited our cameras.

Of course, the timing of our autumn visit was not one that allowed the viewing of the purple hanging wisteria for which Kameido is so well known. Nevertheless, we could still "see them" in our minds, hanging from the many wooded trellises which line and overhang the sides of Kameido's ponds.






Wooden Trellises Supporting Wisteria



Turtles, Koi, and other Inhabitants "

As is often encountered in Japan, the ponds of Kameido were teeming with life. Circling and swirling constantly about were dozens of brown, white, orange, and golden-colored koi--hoping for a handout of fish pellets or other snacks. Also present were dozens of somewhat more cautious turtles, who seemed more content to simply soak up the sunshine rather than forage for food. Other inhabitants....?? Of course..... Japanese ghosts. (If one does not believe this, we suggest simply returning after the fall of darkness.)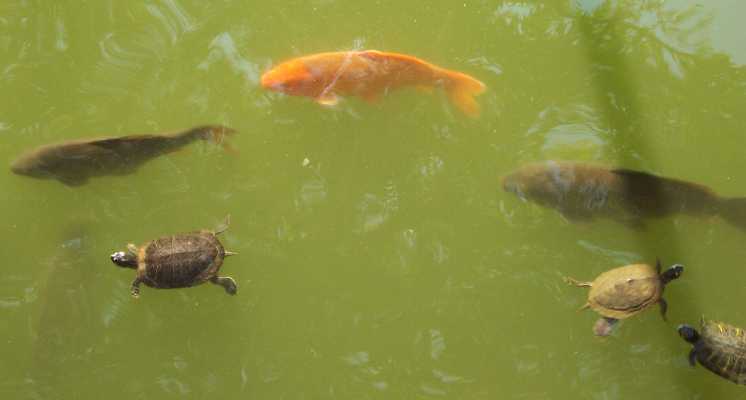 Kameido's Koi and Turtles



Kameido's Drum Bridge

Of course, the most well-known of Kameido's sights is its famously-arched drum bridge. Having encountered other similar arched wooden bridges in Japan, I already know how truly "steep" and treacherous these can be to traverse. Despite the difficulty that these steeply arched structures can present to those who are elderly, Japanese children on the other hand find these bridges to be endlessly delightful.

However, rounding the corner and viewing Kameido's "new" drum bridge from a slightly different angle yielded an unexpected surprise...... cement steps, rather than the expected curved wooden surface. Alas, although certainly this must be appreciated by Kameido's older visitors, sadly today's Japanese children know not what's missing in their experience.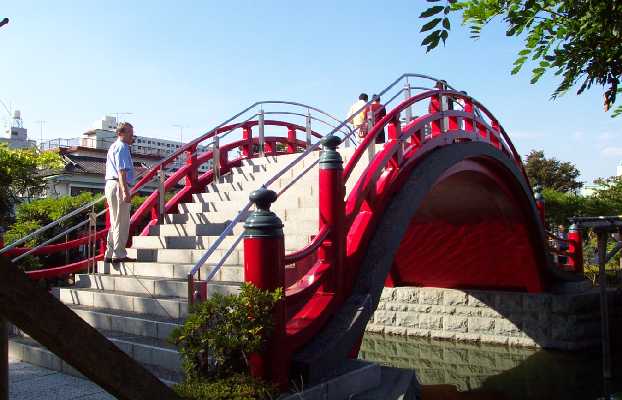 Kameido's Drum Bridge




Within the Heart of the City

Of course, Tokyo's modern day Kameido Shrine somewhat sadly lies today within the generally dull and uninspired architecture typical of Japan's post-War reconstruction. Because of this, most views seen within the grounds of Kameido are backed by the imposing presence of tall buildings seen in the distance. In Japanese, I found myself occasionally muttering one of my internal Japanese phrases, "sho-ga-nai...." ("it can't be helped...."). Like many visitors to Japan, I find myself constantly seeking out, searching for, and hoping to find what remains of what was "old Japan." Still--with luck, persistence, and an open mind, sometimes a little of Japan's "oldness" can be found.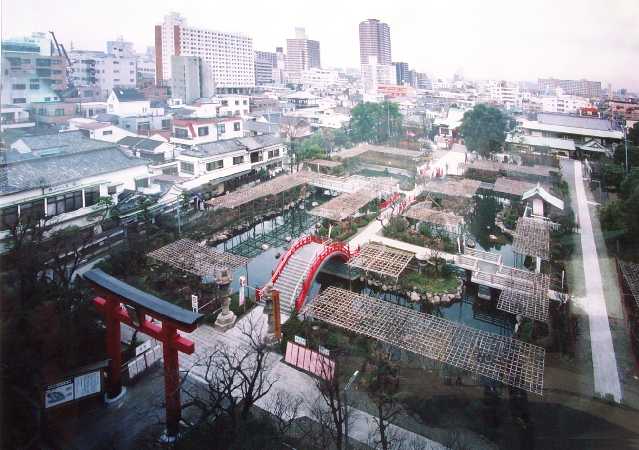 Tokyo's Kameido Shrine and Surrounding Area




The "Art" of Kameido Shrine

Of course, as collectors of Japanese woodblock prints, our interest in and attraction to Tokyo's Kameido Tenjin Shrine comes from the many artist's "views" with which we are so familiar. These artistic depictions are often etched INTO the minds of art lovers, and it is only therefore natural to wonder just "how accurate" these works really are.

As mentioned earlier in the beginning of this article, many of these various "Kameido prints" will be the topic of a soon-to-follow Ukiyoe-Gallery article. That said, we can't resist showing the reader one such "view." Shown just below is Hiroshi Yoshida's famous 1927 print titled simply "Kameido," set alongside today's 2003 photograph of the same location. Pretty amazing, we think. Others will follow.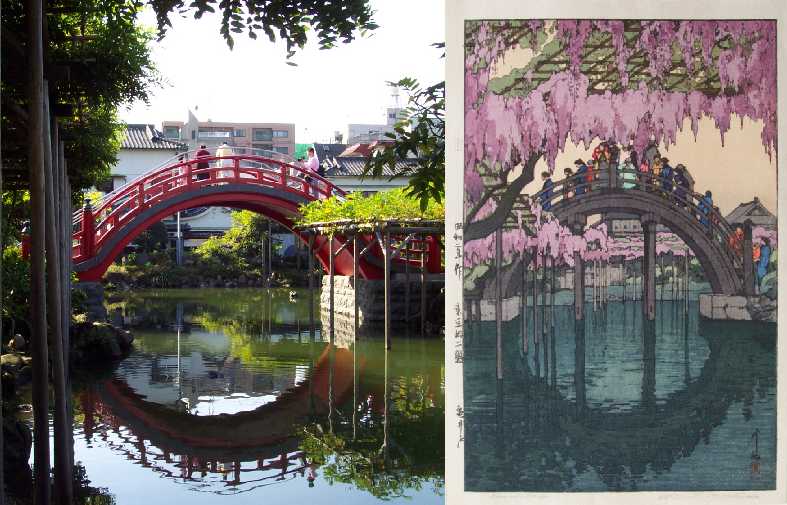 Kameido Shrine's Drum Bridge (2003) -- Hiroshi Yoshida's "Kameido" (1927)




Conclusion

To collector's of Japanese woodblock prints, Japan's many shrines and picturesque views offer a stunningly endless variety of images for collecting. Indeed, some collectors have extensive "sub-collections" comprised solely of various views of the same location. One such deserving location is, with good reason, Tokyo's Kameido Shrine.



---
(c) Thomas Crossland and Dr. Andreas Grund, October 2003 and July 2004
Gallery
Terms
Ordering
About Us
We Buy Prints
Library