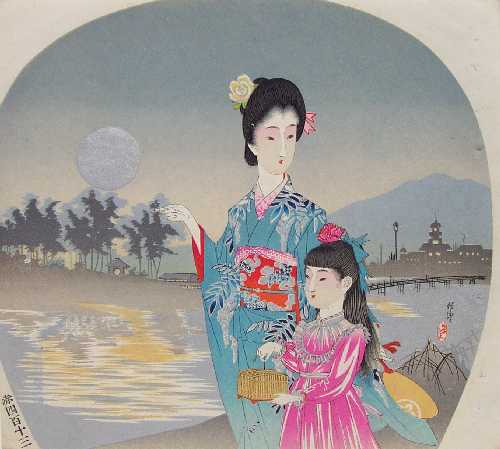 (Click HERE for additional image)
(Click HERE for additional image)
Artist
unread
Title
"Mother, Daughter--Silver Moon"
(given name)
Date
ca1880-90's
Series
na
Publisher
na
Seal, Carver/Printer
unk
Image Size
8 5/8 x 9 5/8
Impression
Very Fine. Superbly executed "bokashi" shading; extensive use of silver metallic pigments to water area, moon, and kimono; "burnishing" to black hair areas; highly detailed carving.
(VIEW representative verso "bleed-through.")
Condition
Nearly Excellent. Excellent colors.
(Original binding-holes right edge; few scattered marks; light wear.)
Full, original margins.
Reference/Illus
na
Comments
Original Meiji-era "ishihan" (fan) print circa 1880-90's. Salesman's sample with item number in lower/left corner. Exquisitely printed with much attention to details.
Rarely seen original print.
Item #
DG-868
Price
$175
Not a recent print--guaranteed 110+ years old.