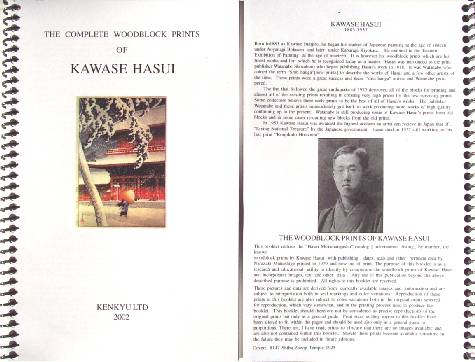 (Click HERE for additional image)
Title
"The Complete Woodblock Prints of KAWASE HASUI" Booklet
by Kenneth Darling
Date
2003
Series
na
Publisher
"KenKyu Ltd" (self-published, copyright being sought)
Seal, Carver/Printer
na
Image Size
5 1/2 x 8 1/2 inches x 88 pgs.
Impression
Softcover, spiral-bound, protective plastic cover.
Condition
New.
Reference/Illus
na
Comments
Ultra convenient and very handy--should be on the desktop of every collector. Comprehensive "collector's guide" to all 633 lifetime prints created by Hasui KAWASE. Includes all 567 Watanabe, Bijutsusha B-1 through B-8, Doi 1-13, Kato 1-12, Kawaguchi 1-15, 1-4 b&w Isetatsu, Hojudo H-1 and 2 Doll prints. All in color (except 4 by Isetatsu)--633 total prints. Handy booklet format.(Learn more)
Item #
BG-136
Price
Special $100
(USA s/h/i included)
(reg $125)
Selling History: Dozens sold!!