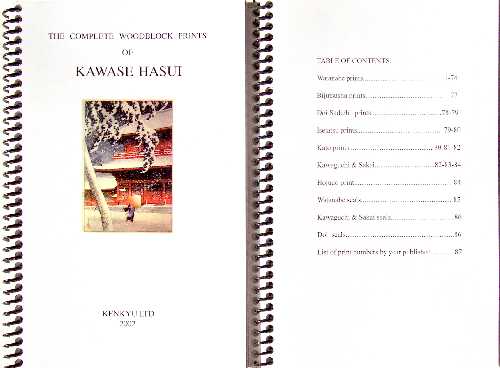 (Click HERE for additional image)
(Click HERE for additional image)
(Click HERE for additional image)
Title
"The Complete Woodblock Prints of KAWASE HASUI" Booklet
(by Kenneth Darling)
Date
2003 (only edition)
Series
na
Publisher
"KenKyu Ltd" (self-published, copyright being sought)
Seal, Carver/Printer
na
Image Size
5 1/2 x 8 1/2 inches, 88 pgs
Impression
Softcover, spiral-bound, protective plastic cover.
Condition
New.
Reference/Illus
na
Comments
Ultra convenient and very handy -- should be on the desktop of every collector. Comprehensive "collector's guide" to ALL 633 lifetime prints created by Hasui KAWASE. (Contains all 567 Watanabe, Bijutsusha B-1 through B-8, Doi 1-13, Kato 1-12, Kawaguchi 1-15, 1-4 b&w Isetatsu, Hojudo H-1 and 2 Doll prints. All in color (except 4 by Isetatsu)--633 total prints.) Includes detailed information for various "Publisher's seals."
Handy booklet format.
(Learn more)
Item #
BG-136
Price
$POR
Selling History: Dozens sold!!