---



Who is Kevin Clark?

Quite recently, we stumbled across a few prints offered by Oregon artist, Kevin Clark, who lives and works from his "Lizard Prints Art Gallery," some two hours away in nearby Roseburg, Oregon. Upon viewing a couple of Clark's prints, and learning that he was being invited to Oregon State University to be among a group of artists receiving awards for their works, we then arranged to met with him personally midway in Corvallis that afternoon prior to the university's evening awards ceremony.

So, over coffee, we viewed a number of Kevin's woodblock prints, talked about his woodblock printmaking business, and generally got to know one another. This first meeting was equally enjoyable for all--as "we guys" talked prints, this author's Japanese wife Hisako busied herself in conversation with Kevin's close Japanese friend, Miyuki.

Although now only 40 years of age, Kevin, as we quickly learned, has been involved in this printmaking business for quite a number of years--having carved the blocks (and self-printed) some 438 different print images to date. Although certainly a number of these prints are smaller items such as greeting cards and the like, some of Kevin's more recent works are quite impressive (and much larger) as we will soon learn.


How it All Began....

Although Kevin's formal art education is very limited (he's taken only a single art class in his entire life), he's certainly no stranger to the art and printing business, thanks to his now deceased grandfather John R. Carey (1903-2003) who used a massive 2-ton press in his lifelong livelihood as a contract designer and printer. So it was that since 16 years of age (about 1980) Kevin has found himself loosely around the printing business--although he did not seriously become an active artist/printmaker until 1993-94.

It was some 12 years before his death that Kevin's retired grandfather John Carey decided in 1990 to relocate from Kansas City, Missouri to be closer to Kevin in Roseburg, Oregon. So, cross-country grandfather John moved, along with his massive 3,760 pound press which was manufactured in 1887. Although Kevin was then still employed full-time at a sales job with a local plumbing and electrical supply firm, Kevin's odd hours and occasional weekends were spent casually interacting and slowly learning the carving and printmaking business from the elder Carey. A close friendship and "artist's bond" was thusly formed between these two, as they spent more and more time together producing casual artworks, including what were to then become some of Kevin's first commercial pieces, greeting cards that were soon being sold in 28 local stores and shops.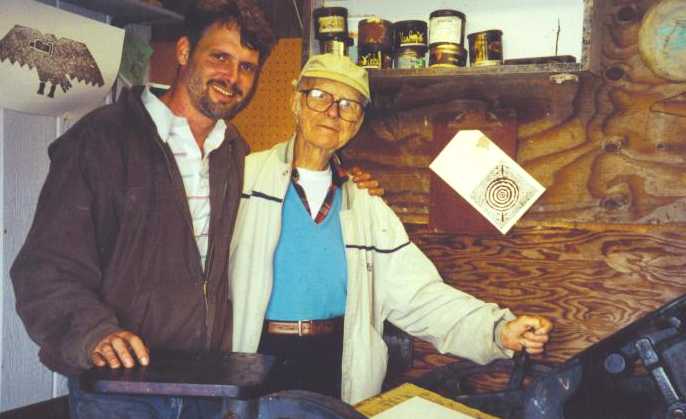 Artist Kevin Clark with grandfather/teacher John R. Carey and their 2-ton Press (1997)




Kevin Clark's Unique Woodblock Print-Making Process

As one can perhaps image, the use of a 2-ton press requires different techniques and approaches, and is therefore necessarily a bit different than the traditional Japanese method of woodblock printing. Nevertheless, using the medium of "wood" as the basis for his artworks, the methods employed by Clark do still have much in common with Japanese printmaking, as we will soon explain.


A Few Words about Traditional Japanese Print-Making Techniques

Before discussing Kevin's techniques, perhaps it it best to mention briefly how Japanese woodblock printmaking is done, for the benefit and understanding of those who are perhaps unfamiliar with traditional Japanese woodblock techniques. Most Japanese prints involve a rather complex, multi-step effort requiring dozens and dozens of hours of effort to produce, in the end, a single image. In short, each print design requires the intricate hand-carving of numerous cherry woodblocks, with a separately carved block being required for EACH of the colors used in the final print.

Hence, a typical 12 to 15 color print would therefore require the carving of then 12 to 15 individual blocks--a painstakingly detailed task that could easily take several full weeks or even months to complete. Additionally (as to technique), into each of these individual block's two edges must also carved two small raised "kento marks" which are needed as precise "alignment points" against which the actual paper sheet is set while each of the various blocks' colors are being individually printed.

Once the entire "block-set" is completed, the Japanese printing process then is done by carefully inking the remaining raised surfaces of the woodblock, then laying the paper face-done onto this inked surface and finally hand-rubbing this paper's backside vigorously with a small circular hand-tool known as a "baren." A single color is thusly printed each day, and the process is repeated (over a number of days) until all of the colors are "over-printed" to produce the final completed image.


Kevin Clark's Print-Making Process--Carving

Kevin Clark's (or we should perhaps say, Kevin's grandfather's) techniques overall differ somewhat from the Japanese-- however, still involves the painstaking task of hand-carving a print's design carefully into the face of a woodblock. Here, although Kevin often prefers to use American hardwoods (such as myrtlewood, ash, or oak), Japanese-made carving tools are still Kevin's tools of choice. Most of what makes Kevin's block-carving technique different, however, is that he will often use only a SINGLE woodblock to produce the print's entire image, which then requires the painstaking task of hand-inking various areas of this single block with different colors. Still, some of Kevin's prints at times use two or three blocks--although he never carves "kento marks" (as alignment points) into his block's edges.

Although Kevin's style typically results in less colors being used within a given print image--he more than makes up for this by instead emphasizing strongly visible natural "woodgrain" in many of his prints. He also very skillfully gives many of his "one-block" prints the appearance having been printed from multiple blocks by carving out a very narrow perimeter around his print's various elements, leaving these areas FULLY raised for inking, then only PARTIALLY carving away the surrounding areas. In this manner, even the "carved away" areas still take some inking--and thusly appear as lighter areas within the print. This technique of more darkly inked areas can be easily seen the "Crows" print shown just below.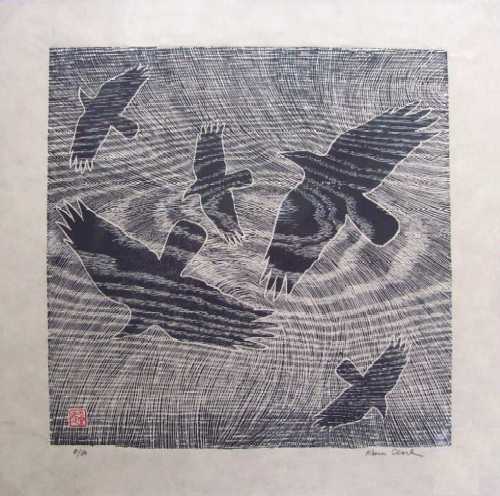 Clark's oversized March 2005, "Crows" Print



Not as intricate as some of the almost photographic quality "shin-hanga" prints of the 1930's/40's, instead Kevin's style often more closely approaches the abstract or semi-abstract style of "sosaku-hanga" prints.


Kevin Clark's Print-Making Process--Printing... With a Press

It's the actual printing method used where Kevin and his grandfather break from Japanese tradition. Once the woodblock's surface has been carefully hand-inked, it's the century-old (1887) 2-ton press that applies the printing pressure, moving the inks from the woodblock deeply into the pores of the sheet of paper. Hence, you'll never see a small, round "baren" tool sitting around in Kevin's workshop. He simply does not need this little hand-tool.

Due to the extreme pressures exerted upon Kevin's blocks during this mechanical printing process, Kevin has learned to use blocks that are quite thick, with most being a full inch thick. Nevertheless, this extreme printing pressure can at times totally crack and destroy an intricately carved block after only completing a very few copies--a risk of failure that Kevin takes every time he begins to print an edition of prints.


Early Hard Work Pays Off....

Although Kevin's first commercial printings of the early 1990's were that of making Christmas and other small greeting cards, lately his prints' size has grown--along with both his audience of print buyers and demand for his prints.

One such print is Clark's July 2000 print titled "Republican Elephant," which is seen just below. It's one of those bold, eye-catching images that's locked deeply into the viewer's mind immediately upon seeing this print for the very first time. Clark had sent a copy of this design printed onto a shirt to the then-Governor of Texas, George W. Bush. Apparently Bush liked the image, responding by purchasing a copy of Kevin's 50-print edition--however, he responded too late to get Kevin's first copy (already sold) so he had to settle for the #2 copy of the series.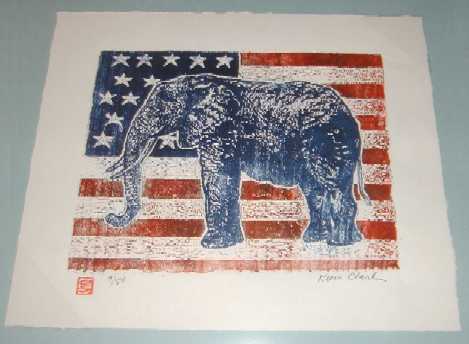 Clark's red/white/blue July 2000 Print, "Republican Elephant"



Another of Kevin's recent success stories is that of his September 2003 print titled "Sun & Water." This over-sized 11 1/4 x 21 1/2 tall print was exhibited for a 4-month period during the spring/summer of 2004 as part of the "American Garden Legacy" exhibit sponsored by the Washington DC Smithsonian Institute.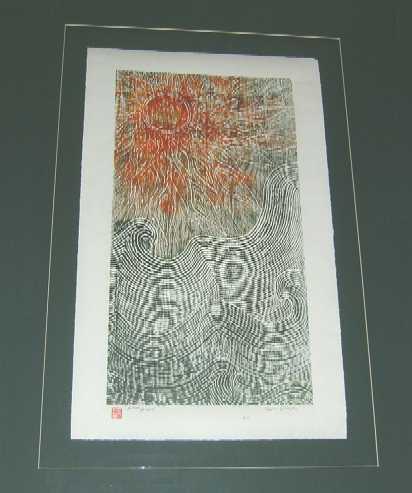 Clark's 2004 Smithsonian Exhibition Print, "Sun & Water" (September 2003)




A Word about Clark's Truly "Limited Editions"

One thing that collectors of Kevin Clark's prints have working in their favor is the very limited sizes of Kevin's typical editions. Some of Clark's prints are produced in edition sizes as small as only 35 or 40 prints, with a typical "large edition" running usually only 70 or 80 prints. Once this initial edition is completed, Clark the ensures these prints' integrity to his print buyers by permanently "striking" his name or initials into the "face" of his print's main block. In doing so, print buyers are insured that NO future editions will ever be produced.

Kevin has also found a following of collectors who will gladly purchase these "struck-out" woodblocks to go on their wall side-by-side in display with the same print image printed onto paper. These actual one-of-a-kind woodblocks typically sell in the 10x price range of one of the original limited edition prints, so they will typcically run in the $1,000 to $2,000 area.


"Bat and Moon" (March 2005) -- An Ukiyoe-Gallery Exclusive

As one quickly learns upon meeting and visiting with Kevin for the first time, he's a very active and energized kind of a guy. And so, as we talked "technique" and other matters during our first meeting in Corvallis, Oregon in early March, talk turned to the topic of "print design" and the like. Inquiring about the possibility of co-designing some print images, it was quickly learned that Kevin was both open to suggestions and willing to apply his design skills to the suggestions we offered to him.

Why, we wondered, were there not more "bat prints," for example, created by shin-hanga artists of the 1920's to 40's?? The only "bat" designs with which we were readily familiar were three designs by Koson, and another one each by artists Sozan and Biho. And so, a simple "bat-moon-branch" design was suggested to Kevin, who said he'd "give it some thought...."

Much to our surprise, within a week's time Kevin's email was received announcing that he'd found himself "unable to resist trying," and so we thusly learned of a multi-day marathon carving effort which resulted in the "Bat and Moon" print seen below. It's an over-sized print, with an image area of 10 3/4 x 16 1/4 inches, plus the wide margins typical of all of Clark's prints. The carefully choosen placement of this print block's "woodgrain pattern" is strikingly evident.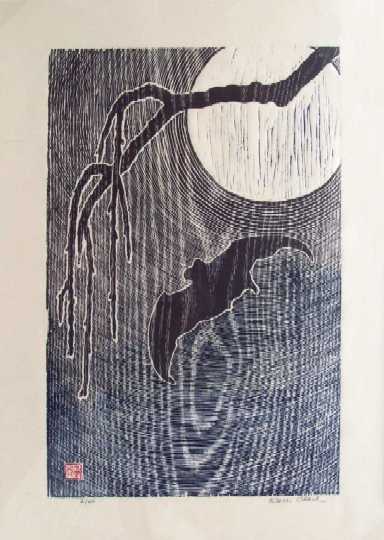 Clark's 2005 "Bat and Moon" Print



Kevin agreed that since we'd had a lot to do with its design and conception, that he'd offer this print as an exclusive to customers of our Ukiyoe-Gallery website.


Which Has Got Us Thinking....

We're already given to thought of a "crow" design..... or perhaps a "heron" design for Kevin's next "sponsored project."





Kevin Clark in his "Lizard Print Art Gallery" Studio




Conclusion and an Afterthought....

We're also very optimistic about what the future holds for Kevin Clark's works, as he seems to certainly be finding success as an independent print-maker. Thinking back to few things that Kevin had to say about his print-making grandfather, we are pretty sure that John Carey would be very proud of the success that his 2-ton press has brought to his southern Oregon grandson, Kevin Clark.

To collectors of Japanese woodblock prints, the prints being produced by Kevin Clark are both noteworthy and certainly deserving of their attention.


A selection of Kevin Clark's prints are now available in our website's Gallery #4.





---
<! - - - - - - - - endzone of article divider - - - - - - - - - - >

Literature (and print) sources used in preparation of this and other articles include:


Above prints courtesy of: Ukiyoe-Gallery and Kevin Clark's Lizard Print Art Gallery

"Currents Entertainment Guide" (Jan 14-21, 2005), "The News-Review," Roseburg, OR (article by Erin Snelgrove--reference permission granted)

"Guide to Modern Japanese Woodblock Prints: 1900-1975", by Helen Merritt and Nanako Yamada, University of Hawaii Press, Honolulu, ISBN 0-8248-1732-X

"Kawase Hasui -- The Complete Woodblock Prints", by Kendall H. Brown & Shoichiro Watanabe, Hotei (KIT) Publishing, Netherlands, ISBN 90-74822-46-0

"Crows, Cranes and Camellias: The Natural World of Ohara Koson", by Amy Reigle Newland, Jan Perree, Robert Schaap, Hotei (KIT) Publishing, Netherlands, ISBN 90-74822-38-X




---
(c) Thomas Crossland and Dr. Andreas Grund, March 2005
Gallery
Terms
Ordering
About Us
We Buy Prints
Library