Large Hiroshi Yoshida Japanese Woodblocks ("Double Oban")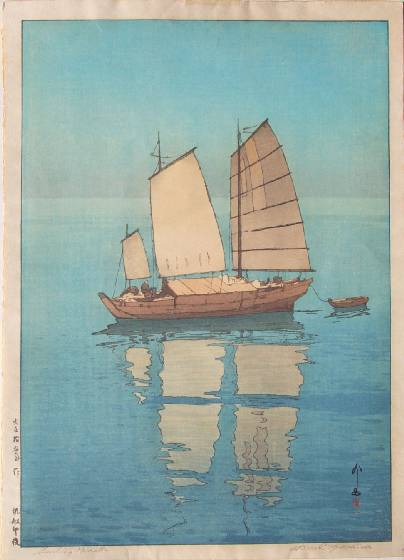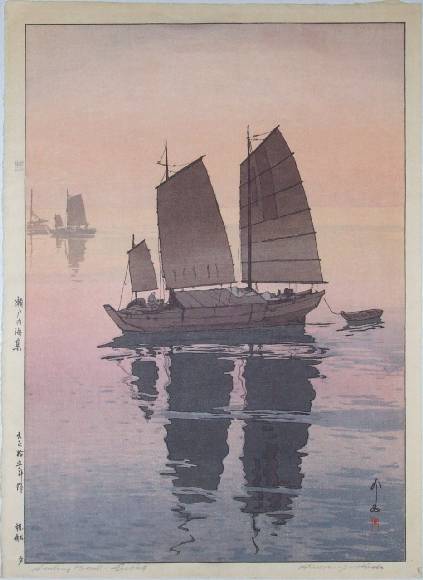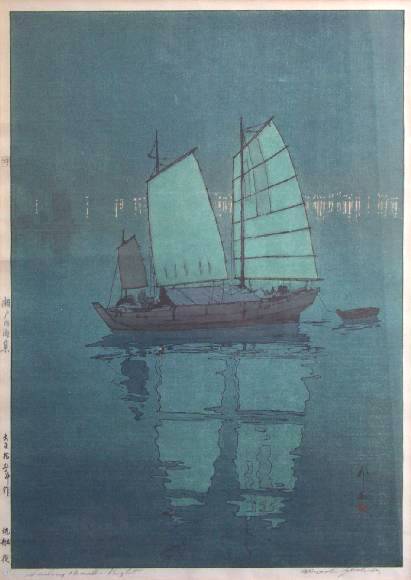 Three of Hiroshi Yoshida's LARGE "Dai-oban" 1926 "Sailing Boats Series" Prints

(Left to right:) "Afternoon" "Evening," and "Night" (all "non-jizuri," all 1950's/60's printings)
---


To help further introduce our readers to the beauty, workmanship, and collectability (and rarity) of really large Japanese prints (in this case, "double-oban"), we've decided to add this recent email exchange with one of our customers to offer these further observations.





Our recent "March 4, 2003 Email" Reply to One of our Customers


Hi Peter,

Thanks for the email--and for your very kind words.

Regarding these "dai-oban" Yoshida "Sailboat" prints, I am nearly certain that later posthumous copies are not/have never been available--we're simply seeing none. Additionally, over that past recent years we have purchased quite a number of both Hiroshi and Toshi prints directly from the Yoshida Family Studio.....and have asked on several occassions about the availability ANY "sailboat" prints (including these). Yoshida Family Studio's Reply has always been: "Not available."

It seems quite clear to us that IF The Yoshida Studio had blocks that were still "printable," clearly they WOULD be printing some--as Hiroshi's various "sailboat" images (perhaps 8 or 10 in total) are amoung his most popular and most sought-after. Hence, our conclusion is that these blocks must be cracked or otherwise unprintable.

Regarding price--first, do you realize how LARGE these "dai-oban" prints truely are?? You could cut them exactly in HALF, with each half-sheet then being large enough for a full "oban" sized print. They're BIG.

Next, if these were "jizuri" editions, they'd be priced at a very minimum of $2500-3000 each (likely higher)--so hence, their very reasonable "non-juzuri" pricing at $1275 apiece. In recent months we've seen a couple of other copies (same as ours) priced and sold in the $1400-1600 area.

All that said, ...if you're interested .... as you may know, we will gladly do a "3-Month Layaway"--spreading yours payments over several months. (And, in the case of these, would even do payments over 6 months.)

Bottomline, if you've been looking around, you'll realize just how really hard the big prints are to find. Clearly, few exist--one reason being the fact that their large size makes them very difficult to print.


Talk again soon,

Thomas
(Ukiyoe-Gallery)



Conclusion

In summary, to collectors of Japanese woodblock prints, these exceptionally large woodblocks deserve a close look. If you've got a larger area that "needs" some decoration, certainly these seldom available and really "over-sized" prints can make a very powerful statement.



(A selection of Hiroshi Yoshida prints are currently available for sale
in our Gallery #2, (There, we offer together both "jizuri" and "non-jizuri" prints).
---




For questions about Japanese woodblock prints, please email us at Ukiyoe Gallery, or call us at (541) 758-1752.



(c) Thomas Crossland and Dr. Andreas Grund, May 2003