A Visit to The Honolulu Academy of Arts





As a follow-up to last year's visit to Hawaii, this May of 2002 again saw a return visit to the Honolulu Academy of Arts which houses the prestigious 6,000-plus ukiyo-e print collection of James A. Michener. This year's visit coincided with the Academy's 75th Anniversary Celebration, evidenced by the presence of a huge "birthday cake" adorning their front entrance area. Founded in 1927, among the Academy's 35,000 permanent holdings, of special interest to collectors of Japanese woodblock prints are its growing assemblage ukiyo-e and shin-hanga prints, including the well-known James A. Michener Collection that was first loaned in 1959 and later donated in 1991 to the Academy. It is these prints which were the focus of my visit....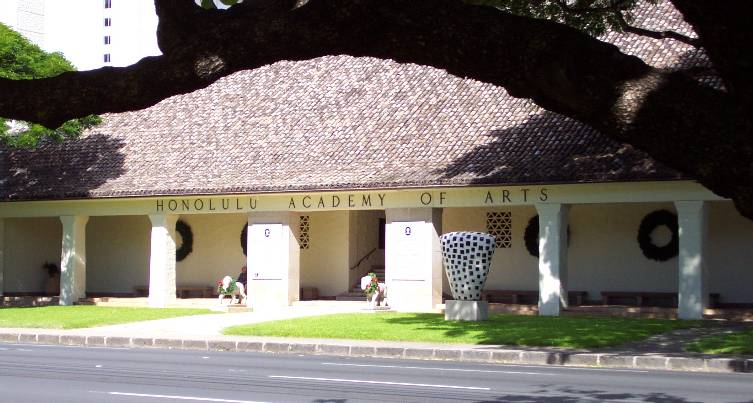 The Honolulu Academy of Arts




As an aside, a legend is told of how the Honolulu Academy of Arts was chosen by Michener to become the recipient of his 6,000 print collection. It is reported that initially Michener had intended to donate his extensive collection of prints to the Metropolitan Museum of Art in New York City, where in fact, he personally traveled to see to the details of this significant donation. However, upon his arrival there, he was ill-treated and ticketed by an impolite policeman--so Michener simply decided on the spot that the Metropolitan Museum would not be receiving his gift of prints after all.

Instead, to Hawaii Michener next traveled (he had lived there earlier during the 1950's) where he sought out the Honolulu Academy which he decided was apparently "more deserving" of his benevolence. And once there, it is further reported, a local Honolulu policeman went out of his way to personally walk Michener to the Academy's entrance. Hence, it was such simple acts of kindness and hospitality that convinced Michener that he had come to the right place. Honolulu would indeed receive his donation.

Echoing the experiences of Michener decades earlier, I too am pleased to report that my several visits to the Academy have all been met with similar acts of kindness and hospitality on the part of the Academy's staff and personnel.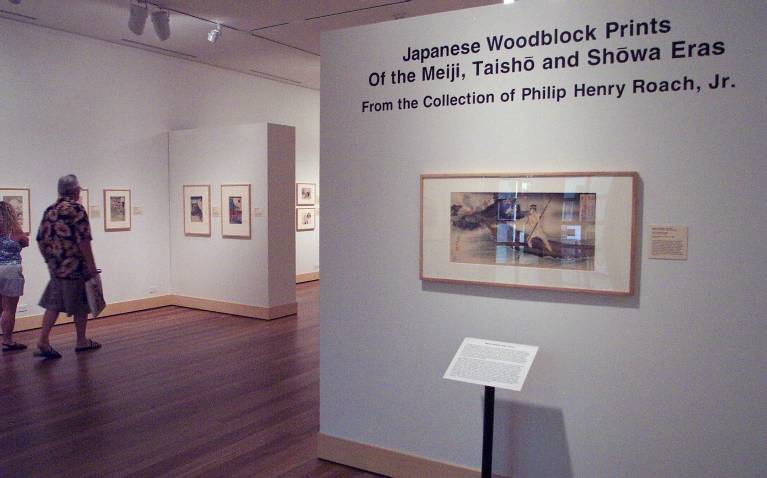 Last Fall's (2001) Public Exhibit





Always on public exhibit in the Academy's "Michener Gallery" are a wonderful selection of Michener's prints, so if you happen to be in Hawaii on vacation or business, do be sure to spent an afternoon there. However, again this year by special arrangement, a couple of delightful afternoons were spent in the Academy's "Ukiyo-e Vault" storage area under the watchful and guiding eye of Phillip Roach, a retired architect who has in recent years donated a large portion of his own personal "Roach Collection" of shin-hanga prints to the Academy. Phillip also continues to donate large amounts of his personal time to the study, cataloguing, and ongoing exhibition preparation activities of the Academy. Likely we will all soon additionally be hearing more directly from Philip, as it seems his extensive research will shortly result in a published work of sigificance.

The journey to this caged, and humidity-controlled storage area is an adventure in and of itself. Down a series of winding, narrow, and windowless corridors I was lead. Entering finally into what is referred to as "The Vault," one is immediately struck by both its security and controlled conditions of storage. In addition to the multiple "layers" of security which include security personnel, cameras and motion detectors, locked doors, and finally a secure "caged area," the Academy's prints are also protected from variations in temperature and humidity. Within this caged area, one is then immediately struck by the immensity of the Academy's Japanese print collection. Rows and rows of four foot wide, narrow metal storage drawers reach from floor nearly to ceiling, with each 2 inch tall drawer holding dozens and dozens of painstakingly catalogued woodblocks. Being there in "The Vault" was certainly as close to experiencing an "ukiyo-e Heaven" as any woodblock collector could ever hope for.





Two views inside "The Vault"





The first focus of my visit was a careful examination of Michener's extensive Hiroshige print collection of "original edition" prints to determine how these early prints compared to what is know as their later corresponding "Memorial Editions." The results of this study will likely become the focus of an upcoming article discussing three of Hiroshige's well-known series, "One Hundred Famous Views of Edo," "The Vertical Tokaido," and "Thirty-six Views of Fuji."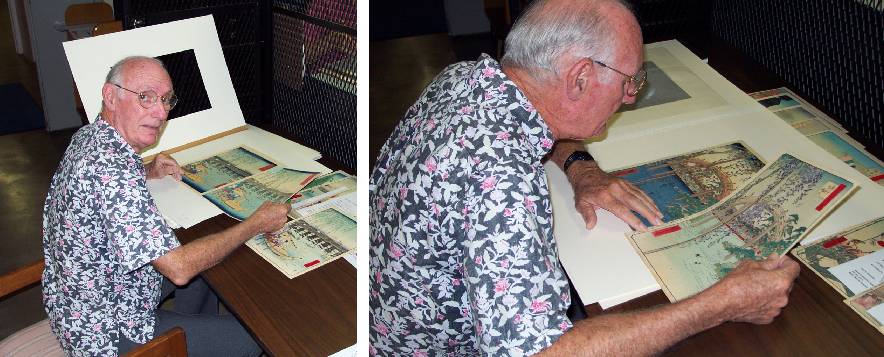 Host Philip Roach With A Few of the Academy's Many Hiroshige Prints





Next, my focus turned to an examination of ALL of the Academy's holdings of the woodblock prints of Hiroshi Yoshida. Knowing in advance that I was desiring a study of these prints, four very large black Solander boxes of catalogued Yoshida prints were found parked just outside the caged "Vault's" doorway on a rolling cart. These prints, I was told, were normally stored in yet another secure area, but had been brought out for my examination and study. Much has previously been written about "jizuri" edition prints (personally supervised printing) by Hiroshi, but little if anything seems to have even been published about the "non-jizuri" prints published by the Yoshida Family Studio. This subject, too, will become the focus of an upcoming article.

Finally, during the course of these two delightfully spent afternoons, I was able to carefully observe a number of very rare and valuable Goyo prints, several pre-earthquake prints by Shotei, and many other beautiful and rarely seen prints. The host of my visit, Philip Roach--having long been a Japanese print collector himself--was a constant source of information and insights.

Without a doubt, these visits to the Honolulu Academy ranked among the highlights of our Hawaii visits. In closing, words of thanks are again due to Philip and the other persons among the Academy's staff who made these visits special.



If you visit....

The Honolulu Academy of Arts is conveniently located midway between downtown Honolulu and Waikiki and is easily reached either by private car or by frequent City buses which stop directly in front.

Honolulu Academy of Arts
900 South Beretania Street
Honolulu, Hawaii 96814-1495

Gallery Hours
Tuesday - Saturday 10:00 a.m.-4:30 p.m.
Sundays 1:00-5:00 p.m.





Hawaii -- The "Hospitable State"





(Disclaimer--Please note that the Honolulu Academy of Arts is in no way associated with Ukiyoe-Gallery, and therefore does not warrant any other information provided by this website. We do appreciate their assistance and willingness to make available prints from their collection for our study.)




---
(c) Thomas Crossland, 2002
Gallery
Terms
Ordering
About Us
We Buy Prints
Library